South Sudan activists announce anti-government protests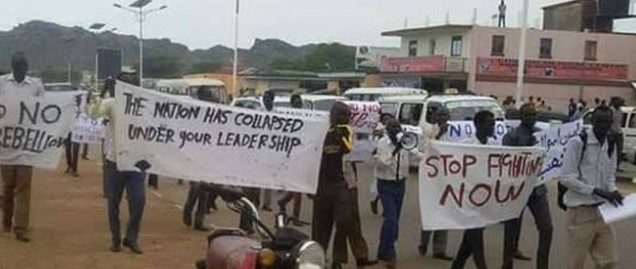 The University of Juba students protesting (File photo: The Nation).
The People's Coalition for Civil Action (PCCA) said plans were afoot for protests against the transitional government across South Sudan and the diaspora.
PCCA is a grouping of civil society groups that launched a public campaign earlier this month to demand political change after 10 turbulent and often bloody years of independence.
Kuel Aguer Kuel, a former state governor was arrested by the National Security Service (NSS) in the capital Juba for signing the campaign's declaration.
In an audio recording extended to Radio Tamazuj on Friday, Abraham Awolich, a PCCA representative from national think-tank the Sudd Institute, said 30 August 2021 is the beginning of "a series of peaceful demonstrations, strikes and civil disobedience across the country."
According to the group representative, the protests will continue until the demands of the people of South Sudan are met. The group called for the "immediate release of former governor Kuel Aguer Kuel, civil rights defenders and political detainees."
It also called for the resignation of President Salva Kiir and First Vice President Riek Machar "for having failed the people of South Sudan since independence."
The coalition government formed under the 2018 peace agreement is yet to comment on the said protests.
South Sudan has struggled to recover from a civil war unleashed only two years after its 2011 independence and is now grappling with instability and a desperate hunger crisis.