Government warns against emulating Sudan protests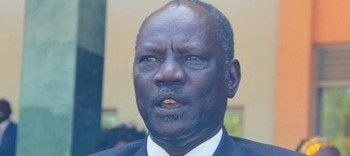 Photo: Information minister Michael Makuei
South Sudan's government has warned against what it called plans by youth to organize anti-government demonstrations in the country.
Information Minister Michael Makuei on Tuesday warned against the reproduction of the popular uprising that Sudan is experiencing, saying the government was serious to implement the revitalized peace agreement.
Some South Sudanese youth have called for anti-government demonstrations, including against the country's leader Salva Kiir. Several youth on social media called for anti-government protests on 16 May.
Makuei said: "Those who want to protest are welcome but let them be ready to face the consequences. We know those who are spearheading the attempts."
The outspoken government official stressed that any change of leadership could only come through the ballot box after the implementation of the peace deal.
Sudan's President Omar al-Bashir was removed by the military on 11 April after months of protests against his three-decade rule.
"Changing the government should not be done through protests, so it is better for us to seek peace. If youth want democracy, they should follow the correct procedure," Makuei said.
Makuei, who is also the government spokesman, said the September peace deal signed by President Salva Kiir and opposition groups calls for elections in South Sudan.
The minister has said some youth in the country are trying to imitate the protests in Sudan and blamed unidentified outside groups for trying to destabilize South Sudan.
Makuei warned against attempts to copy the Arab Spring for South Sudan." We would not allow any chaos brought from outside. We know those who are behind it," he said.
"We don't want youth to die again. South Sudan youth should not try to reproduce what is happening in other countries," he added.
"We know that some foreign elements here are working with youth to incite them and are distributing a lot of dollars. I am urging the youth and the civil society not to chase a mirage."
Salva Kiir became the first president of South Sudan in 2011. Prior to independence, he was president of the government of southern Sudan, as well as First Vice President of Sudan, from 2005 to 2011.
Kiir is expected to run for another term in office in 2021.