JUBA/NAIROBI -
23 Aug 2018
Self-exiled dissident returns to Juba after months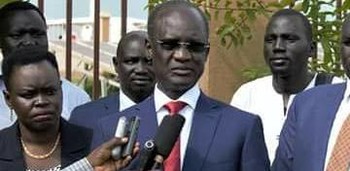 Telar Riing Deng, a South Sudanese political dissident , has unexpectedly returned to Juba this afternoon after a self-imposed exile in neighbouring Kenya.
Telar, a former ambassador to Russia, resigned from the Kiir administration in January over alleged mistrust. He is a former ally of President Salva Kiir.
"I can confirm that Telar has returned to Juba today. Now there is peace in the country, so people want peace in the country," Chol Ajongo, South Sudan's Ambassador to Kenya told Radio Tamazuj.
The South Sudanese diplomat further said the conflict must be ended through dialogue. "As a government official, I cannot say that everything is good in the country. Yes, we are facing challenges in nation building like any other country, but the solution is peace," Ajongo said.
He admitted that the conflict has devastated South Sudanese lives and homes. "The conflict will never benefit anyone whether in the government or opposition," he said.
"The move taken by Telar as a well-known politician is in the interest of peace in the country. We need to demilitarize our politics. Political wrangling is everywhere in the world, but it has to be through peaceful means," he said.
"Maybe Telar has decided to return to Juba and try to negotiate with the government," he added.
Initially associated with former army chief of staff turned rebel leader, General Paul Malong Awan, former presidential adviser Telar Deng was part of the mediation team that convinced the former to come back to Juba from Yirol town in May last year.