South Sudan ambassador to Russia unexpectedly resigns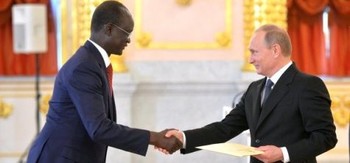 The South Sudanese ambassador to Russia has unexpectedly resigned without citing reasons for tendering his resignation letter to President Kiir through foreign minister Deng Alor on Thursday.
"I, Ambassador Telar Ring Deng, do hereby submit my resignation as the Head of Mission to the Russian Federation in Moscow and a non-resident Ambassador in Baku, Azerbaijan; Ashgabat, Turkmenistan; and Tbilisi, Georgia," Ambassador Telar Ring Deng wrote in his resignation letter.
The South Sudanese diplomat recently refuted reports associating him with the country's former army chief Gen. Paul Malong Awan who was declared a rebel by Kiir's administration this month.
"Rumour mongers will one day stop what they are spreading about my rebellion. I am still an Ambassador accredited to Russian Federation," Telar said.
According to a letter seen by Radio Tamazuj, Ambassador Telar was recalled to Juba by foreign minister Deng Alor after directives of President Kiir for urgent consultations.
"You are expected to arrive in Juba within 72 hours following receipt of this urgent communication. Therefore, please communicate your travel arrangements to the Undersecretary as soon as possible," Minister Deng Alor wrote on Thursday.
It remains unclear what necessitated the ambassador's impromptu decision to quit.