Journalist arrested for airing story about sanctions against Taban Deng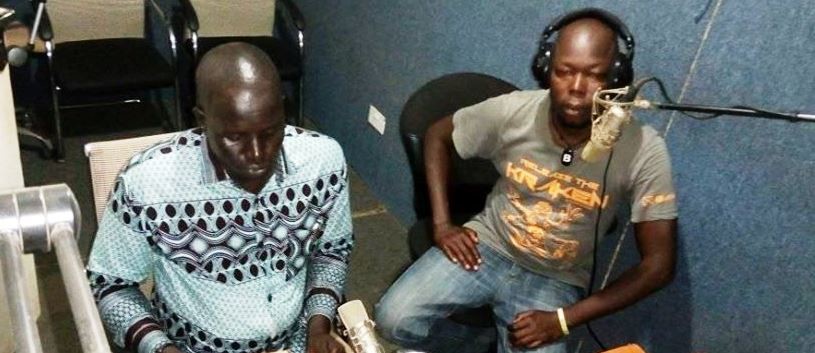 File photo: Ijoo Bosco Modi (R) hosting Torit youth union chairperson
A radio journalist has been arrested by Torit state authorities for airing a story about sanctions on First Vice President Gen. Taban Deng Gai, a source said.
The source told Radio Tamazuj Saturday that Mr. Ijoo Bosco Modi, who works for Torit Radio 97.5 FM, was arrested on Friday evening after airing a story about the United States sanctions on First Vice President Taban Deng Gai for his role in serious human rights abuse.
Bosco's arrest underscores continuing harassment of journalists in South Sudan where government pressure has weakened the media.
"The authorities were monitoring the radio, so upon hearing news about sanctions against Taban Deng, the information minister went and stopped the news," the source said. "National Security officers came and arrested the journalist asking him to give evidence of the story that circulated on the internet".
Mr. Benard Satiro, the director of information in Torit state, confirmed that the journalist was arrested and transferred to the National Security custody in Torit.
"He is actually in safe hands. We are talking to the National Security Service about the issue and I am coordinating it for him not to be beaten," Satiro said.
Bosco, who also works as a correspondent for Eye Radio, resumed work last week after staying in neighboring Uganda for nearly six months over alleged harassment by Torit authorities.
South Sudan ranks 139 out of 180 countries on the Reporters Without Borders (RSF) 2019 global press freedom index.