US hits Kiir's first deputy with sanctions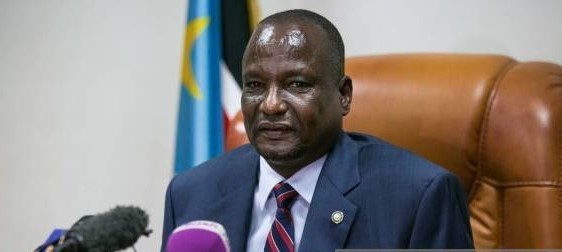 File photo: South Sudan's First Vice President Taban Deng Gai
The United States has imposed sanctions on South Sudan's First Vice President Taban Deng Gai, accusing him of involvement in serious human rights abuse.
In a statement extended to Radio Tamazuj this evening, the US Treasury Department accused Taban Deng Gai of involvement in serious human rights abuse, including the disappearance and deaths of civilians, and of extending conflict in the world's youngest nation.
Washington said Deng has created distrust that has inflamed conflict in South Sudan and undermined the peace process.
"Taban Deng Gai's attempt to silence the opposition party is derailing the country's ability to implement a peace agreement," said Deputy Secretary Justin G. Muzinich.
"The United States calls on all nations to exclude from the international financial system those who jeopardize South Sudan's future."
Deng "reportedly arranged and directed the disappearance and deaths of human rights lawyer Samuel Dong Luak and SPLM-IO member Aggrey Idry... in order to solidify his position within President Kiir's government and to intimidate members of the SPLM-IO," Treasury said.
The US government stressed that it will not hesitate to target those who have perpetuated the conflict in South Sudan and will continue to apply pressure on the senior leadership of South Sudan to take concrete measures to bring peace and stability to the country.
Deng has long been a close ally of President Salva Kiir. He is the latest South Sudanese government official to be sanctioned by the Trump administration.
Last month, the United States imposed sanctions on two South Sudanese cabinet ministers, days after blacklisting five other individuals it says are responsible for the likely murder of the two human rights activists in 2017.
The United States is among the countries pressuring South Sudan's leaders to form a coalition government next month.