Woman under quarantine calls for early counselling to avoid stigma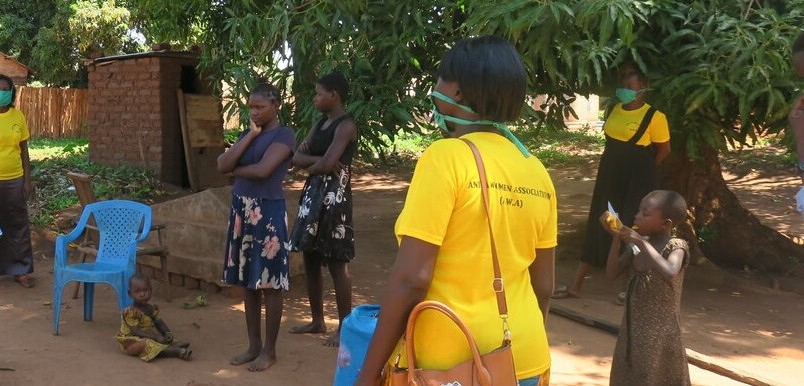 A women's Association in Yambio providing door-to-door COVID-19 awareness-raising sessions (UNMISS photo)
A woman who spent two weeks in quarantine in Juba, before being released when her test results came back negative, is calling on South Sudan's High-Level Taskforce on COVID-19 to provide better information to people suspected of having the virus before putting them in quarantine.
"Staying in quarantine for 14 days is stressful and very hard," she said. "That is why some people could not manage."
The woman, who requested anonymity to protect her privacy, says she and her colleagues, who all work for the United Nations, were put in quarantine after they returned to Juba from Kampala. She said the spread of COVID-19 occurred rapidly when she was in Uganda for medication.
According to the UN mission in South Sudan (UNMISS), "when UNMISS personnel returning to work in South Sudan are met at the airport by our medical team and briefed about the quarantine process, they are then transported to accommodation within the Thongping or UN House bases where they undergo quarantine for the mandatory 14 days."
In March, South Sudan's High-Level Taskforce on COVID-19 asked travellers entering the country from countries affected by the virus to pay for the mandatory 14-day quarantine.
A law making this mandatory has been drafted but pending an enactment into law. Health experts have warned that the virus could devastate South Sudan, with nearly 12 million people, due to a lack of healthcare equipment and infrastructure.
"There are a lot of challenges there, because people have different concept - they don't know the difference between quarantine and isolation. Quarantined people are not sick but are there for observation, while isolation is when you are confirmed positive," she said.
According to the U.S. Centers for Disease Control and Prevention (CDC), quarantines are meant to restrict the movement of people who may have been exposed to a contagious disease to see if they become sick. Those who are asked to self-quarantine at home or in any facility are also asked to avoid contact with others for 14 days.
CDC says self-quarantining allows people to closely monitor the development of symptoms, if any, while preventing further transmission of the virus. Meanwhile, isolation refers to separating those who are already sick from the rest of the population. Self-isolation provides individuals the opportunity to recover from the virus without spreading it to others.
"The more we are following the prevention measures, we reduce the infection like any other country," the woman told Radio Tamazuj. "Our problems are that we tend to ignore, undermining the rules that are set."
The woman says she was put into quarantine without enough information, which led to her trauma and stigma.
UNMISS told Radio Tamazuj in a written statement that "the medical team gives the person a verbal briefing and written information about the quarantine process. The symptoms and risks of COVID-19 are explained as well as what steps to take if they feel unwell, including 24/7 contact phone numbers for the duty doctors. The staff in quarantine are contacted regularly by their supervisor and also assigned a "buddy", usually a colleague, who keeps in touch to provide support and ensure they have everything they need. The Mission also has a counselling team available to provide support over the telephone."
The woman said she was not allowed to be visited by family members or friends during the quarantine.
"When we were quarantined we were told that cleaners will not even come and clean your place, even will not bring you any services, which we abided by," she said. "The following morning we came out and even cleaners ran away from us. We stayed with support from some friends who could bring you something. We came with our sanitizers and face masks from Kampala. You will give money to a colleague to buy you something and you will collect."
The woman also said the people under quarantine lacked basic services. However, UNMISS said in an email to Radio Tamazuj that "food and other supplies are delivered to the individual accommodation, including the ability for the staff member to order delivery meals from dining tukuls within the compounds via telephone."
Recommendations from the CDC and other experts say people in quarantine should avoid leaving the house unless absolutely necessary for visiting a healthcare provider. People can have deliveries of food and other supplies, but should not interact with the person dropping them off. They could, for example, leave a bag of food to be collected outside the person's door.
The woman also told Radio Tamazuj that there should be more education in the community about what happens during quarantines and that people who have been in one aren't a risk once they are released.
"When we returned here (to Torit) with my colleagues, we were traumatized, stigmatized because when we were quarantined the colleagues here were with lots of rumours that we are already infected with coronavirus," she said. "Even one of my colleagues was harassed by a compound member."
The CDC said that the main goal of quarantines or isolation is to "keep people safe and avoid further spread of communicable disease to others".
"Our medical teams do a health check on all staff in quarantine and clear them before they are released," a UNMISS spokesperson told Radio Tamazuj in an emailed response to questions. "Tests are usually only conducted if the person meets international medical criteria, for example, if they are experiencing symptoms, in which case they will be placed in isolation. However, some may be tested if they are planning to travel onward from Juba to other field locations. The sample is taken by UNMISS medical team and provided to the national laboratory for testing. The staff member will remain in quarantine until the results are received."
The government has also told Radio Tamazuj about several incidents in which people have escaped quarantine, including in Eastern Equatoria and Warrap. The woman said that the majority of people escaping quarantine do so because they don't understand why it was necessary.
"People are escaping because they don't understand the meaning of quarantine, and when you feel sick you should abide by the rules and regulation," she said.
The woman further said that quarantine life is difficult and stressful, but she still urges South Sudanese to abide by the rules just like other countries do, to reduce the spread of the virus.
She also said now that she's back in Torit, she sees people still going to salons and behaving normally. She added that people need to modify their activity to keep each other safe.
"People in the media should create more awareness, people should listen, stop unnecessary movement, wash your hands with soap," she said. "Corona is real."