COVID-19: 24 people escape from quarantine in Kapoeta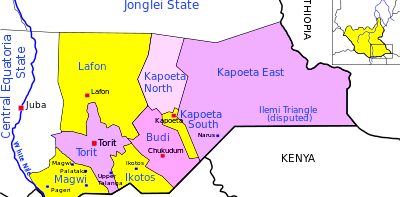 24 people, who are part of those quarantined in Kapeota South County of Eastern Equatoria State, have escaped from the isolation facility due to limited food supply and improper fencing, a local official disclosed.
David Eriga, the secretary general of the now defunct Kapeota Stat, told Radio Tamazuj on Tuesday that the 24 were part of 54 people who travelled to Kapeota South from Juba last week.
"The supply by authorities is limited because of lack of resources and food. That is why some of them complained," he explained.
Eriga said the government managed to buy some foodstuffs to sustain those put into quarantine, but some of them escaped due to the laxity in security.
He pointed out the suspects will be released once they complete 14 days in quarantine.
"Once their days are over, we are going to release them and wait for new ones. My message is that people should observe the rules and regulations to keep hygiene, social distancing, stop handshakes as per the measures given by the high level taskforce on COVID-19 to keep our families and nation safe," he stressed.
South Sudan has so far recorded 347 cases of the novel coronavirus, six deaths and four patients recovered from the deadly pandemic.
The virus is spread when an infected person coughs or sneezes and the droplets land in the mouths and noses of another person.
The most effective ways to protect yourself and others against COVID-19 are to frequently clean your hands, cover your cough with the bend of elbow or tissue, and maintain a distance of at least 1 meter from people who are coughing or sneezing.