Covid-19 Explainer: Is South Sudan at the community transmission stage?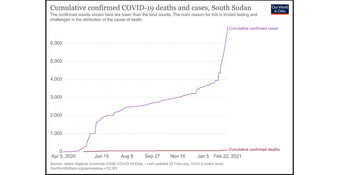 Graph shows, Cumulative confirmed COVID-19 deaths and cases in South Sudan. The confirmed counts shown here are lower than the total counts. The main reason for this is limited testing and challenges in the attribution of the cause of death.
What seems like a second wave of Covid-19 infections is being witnessed in South Sudan as the country reports an upsurge in positive cases.
With an increase in infections, South Sudan might be faced with what experts term the community transmission Covid-19 stage.
In less than five months, available data shows that the number of positive cases and Covid-19 related deaths have more than doubled, causing great concern in a country with one of the weakest health care systems in the world.
What is the community transmission Covid-19 stage?
Community transmission, according to the World Health Organization (WHO) is the third stage of the pandemic and is evidenced by "the inability to relate confirmed cases through chains of transmission for a large number of cases, or by increasing positive tests through sentinel samples (routine systematic testing of respiratory samples from established laboratories)."
Why doctors think South Sudan is at risk of Community transmission
Recently, Med-Blue Laboratory, a private medical laboratory authorized by the South Sudan government to mainly screen travelers, tested 747 samples out of which 209 came out positive. According to Dr. Richard Lako, Covid-19 Incident Manager, these cases were from asymptomatic travelers who come from communities not knowing of their status.
Even though the Ministry of Health maintains that all the recorded cases have been traced and identified as contacts of known positive cases, Dr. Lako says the recent traveler's case poses a risk of a serious community transmission and urges the public to adhere to the directives by the ministry.
"There is a serious community transmission out there that's why we are saying that people must observe and avoid gathering so that they don't encourage the transmission. We need to cut the transmission," he said.
With different cases recorded at the state level, fears are that lack of proper awareness and citizens abiding by the regulations could impact the cases at the state level more.
For instance in Aweil, Northern Bahr el Ghazal State capital, John Agany Deng, an official at the state health ministry said his department has informed the public about the new orders but that the communities have remained adamant. He revealed that the state has recorded about 14 Covid-19 cases with one death case in January and February 2021 and expressed fears that coronavirus cases are soaring in the state.
In Yirol of Lakes State, reports indicate that about 18 cases tested positive, out of which 12 were health workers last month. According to Dr. Marial Chewir Koch, a medical director at Yirol Hospital, there are fears that the virus could spread amongst the larger community as all the positive cases were asked to isolate at home. At the same hospital, six Covid-19 positive patients escaped from an isolation centre last week due to fear of stigmatization and lack of food.
Meanwhile, operations at a church-owned hospital in Wau town of Western Bahr al Ghazal State were brought to a halt last week after health workers tested positive. The hospital has been temporarily suspended for fumigation purposes.
How is the Govt trying to stop these risks?
Earlier in the month, the National Taskforce on Covid-19 announced the imposition of strict Covid-19 preventive measures in the wake of a recent surge of cases reported across the country.
However, recent reports have shown that these measures are met with a backlash from citizens and different institutions which derails the fight against the global pandemic, which has already dealt a setback on people's economic, social, cultural, and health aspects.
Nonetheless, the National Ministry of Health has plans underway to secure Covid-19 vaccines to protect the frontline workers and most vulnerable citizens including the elderly and those with preexisting conditions.
Yesterday 167 cases tested positive out of a sample of 694, bringing the total number of cases in the country to 7,098 confirmed cases with 87 deaths. Most of these cases are reported within Juba, South Sudan's capital city.