Consultations on governance may fail as parties reject Entebbe proposal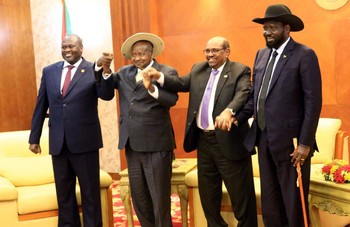 Sudan's President Omar Al-Bashir hold hands with Uganda's President Yoweri Museveni, South Sudan's President Salva Kiir and South Sudan rebel leader Riek Machar during a South Sudan peace meeting as part of talks to negotiate an end to a civil war that broke out in 2013, in Khartoum, Sudan June 25, 2018. REUTERS/Mohamed Nureldin Abdallah
South Sudan's civil society delegates at the peace talks in Khartoum are urging the conflicting parties at the talks to compromise for the sake of peace in South Sudan, saying chances of the parties signing the Entebbe proposal are very minimal.
The Entebbe proposal handed over to the various parties on Saturday in Kampala, Uganda has been rejected by the main SPLM/A-In Opposition and the South Sudan Opposition Alliance and other political parties on Monday.
Edmund Yakani, Executive Director of CEPO told Radio Tamazuj on Tuesday that Sudanese mediators and rival parties have been discussing the Entebbe Proposal but no consensus has been reached as parties hold on to their stances.
"Today since morning, Sudanese facilitators from the Ministry of Foreign Affairs are fully engaging with various conflicting political parties on consultations on Entebbe proposal. Until now the position of the conflicting parties is a rejection of the Entebbe proposal. Chances of a breakthrough on the outstanding issue on governance after Entebbe proposal is narrow," he said.
Yakani urged the leaders not to focus on positions but remember that violence and prolonged suffering of the people of South Sudan will continue as long as each party refuses to compromise on their positions.
"We are calling on the parties to compromise on their positions, the government and the opposition. The compromises should be for the sake of the agreement. The lack of compromise will delay or put hindrances to the Nairobi efforts and also may weaken the security agreement,"
The civil society activist also called on the mediators to offer a genuine and inclusive proposal that would resolve the outstanding issues on governance.
Siam Osman, a member of the women coalition in the talks in Khartoum also added her voice to urge leaders to compromise for the sake of peace. She said the women representatives at the talks are supporting all efforts that would bring about peace to South Sudan.
The civil society organisations, faith-based groups, business community, youth, eminent personalities, and women were expected to meet the Sudanese facilitators to be updated on the Entebbe proposal but the meeting did not take place as conflicting parties are still consulting.