Al-Meiram officials urge NGOs to help South Sudanese refugees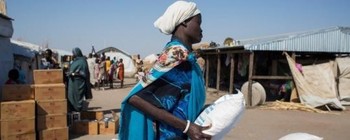 Photo: South Sudanese mother carries a bag of cereals provided by the WFP in in El Alagaya refugee camp in White Nile state (Ala Kheir/WFP)
Authorities in Al-Meiram Locality in Sudan's West Kordofan State urged humanitarian agencies to step up support for desperate refugees fleeing South Sudan.
In a press statement on Saturday, Al-Meiram Locality Commissioner, Abulgasim Al Hireka said the South Sudanese refugee response plan so far remains limited in the area.
Al Hireka called on the humanitarian agencies to provide drinking water, healthcare services, education and shelter to the refugees, warning that the rainy season will worsen the situation further.