Youths stage protests against Kiir in Khartoum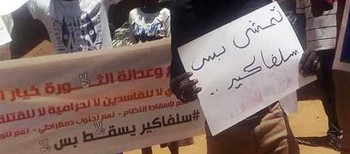 A group of South Sudanese youths staged protests in front of their embassy in Sudan, weeks after rival leaders extended their May 12 deadline to form a unity government.
Dozens of demonstrators gathered outside the embassy in the Sudanese capital Khartoum on Thursday to mount pressure on the government of President Salva Kiir to leave.
Some protesters clutched placards as they chanted: "Down, down Salva Kiir!" and "One solution: revolution!"
They also waved South Sudanese flags and chanted slogans demanding "freedom, peace and justice" as they gathered outside the gates of the embassy, guarded by Sudanese soldiers.
The protests are organized under the umbrella of the Red Card Movement, a group initiated by activists to increase pressure on Kiir to step down.
Lam John, the spokesman of the protesters in Sudan, told Radio Tamazuj that they had decided to protest to make it clear that they no longer feared the Kiir regime.
"We launched the protests outside our embassy in Khartoum today and the protests brought together youths, chiefs, women and students," he said.
The protester further said they presented a petition to the embassy calling for President Kiir to resign.
South Sudanese activists, apparently emboldened by the success of similar protests that ousted Sudan's President Omar al-Bashir, called for more anti-government protests next week.
"We are planning to stage more anti-government protests on May 23. We are going to release a timetable for demonstrations across South Sudan and outside our embassies until Kiir resigns," Lam said.
"There were no protests in Juba today because of heavy rains, but the protests will be launched soon," he added.
An independent estimate for the number of protesters in Khartoum was not immediately available. But witnesses said the protest appeared to be small.
Government officials could not immediately be reached for comment.