Youth leadership workshop ongoing in Wau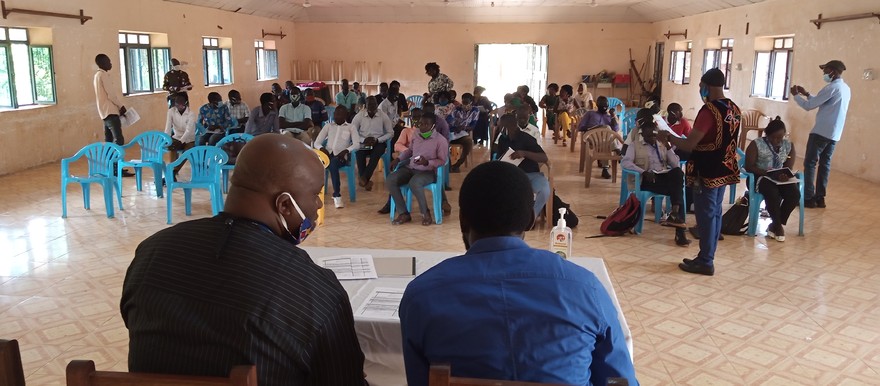 Youth participating during the leadership training at W. Bahr el Ghazal State ministry of education hall in Wau on 15 Sept. 2021. [Photo: Radio Tamazuj]
About 50 members of the Western Bahr el Ghazal State Youth Union are attending a two-day leadership training in the state capital, Wau town.
The training that started on Wednesday is sponsored by the United Nations Mission in South Sudan (UNMISS) Civil Affairs section mainly targets the executive body of the youth union.
Speaking during the opening of the training, the UNMISS Civil Affairs Officer in Wau, Abdulbaqi Ibishomi said the training is to enhance the capacity of the state youth union to become productive citizens in the country.
"The youth are usually the catalyst, the engine of the room for the nation. It is in line with this that the UNMISS decided to partner with the government, the civil society, and the youth union itself. The new officials of the Western Bahr el Ghazal Youth Union to develop our capacity together because we are all learners," Ibishomi said. "So, the essence of this workshop is for us to come up with ideas and strategies to move the youth union forward so that you can make an impact."
On his part, the state Minister of information in Western Bahr el Ghazal Edison Arkangelo who attended the opening of the workshop urged the youth to use their strength in nation-building.
"There are several workshops conducted and they come up with good resolutions but there is no implementation. But this time as a state government, we want to benefit from your strength, the partners also want to benefit from your strength. There is mental strength you use to think, there is physical strength that you can work out your ideas, and the strength that you can use to implement your work in a short time," Arkangelo added.
The state minister also urged the youth to develop a clear strategy and present it to the state government and partners for implementation.