Youth body urges President Kiir to resign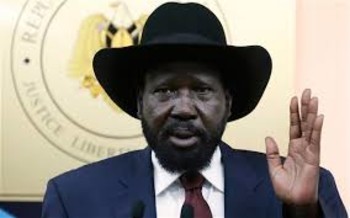 A South Sudanese youth body said on Thursday called on the country's president Salva Kiir and his fist deputy Taban Deng Gai to resign Taban Deng to resign for the sake of peace in South Sudan.
The International Youth for Africa (IYA), in a statement extended to Radio Tamazuj, said many South Sudanese have lost confidence in the current government due to the ongoing crisis across the country.
"Saving the lives of ordinary citizens is the best way for the country to go back to peace. They should put the country and their own citizens first," the group said.
IYA's executive director, Ter Manyang Gatwech, said the time has come for realization of peace and stability in South Sudan.
The youth body called upon the warring parties at the ongoing peace talks in Addis Ababa, Ethiopia to reach a peace deal. "Citizens need peace not power sharing in Addis Ababa. It is time for citizens to enjoy peace," the group said.