'Your humility to us was not in vain'- Kiir tells Pope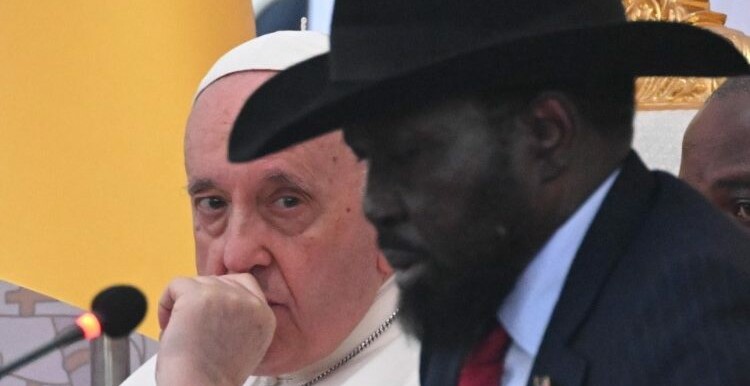 President Salva Kiir Mayardit on Friday told Pope Francis that after a retreat in Rome in 2019, they have been able to implement key tasks in the 2018 revitalized peace agreement.
He made the remarks at the Presidential Palace where he officially welcomed Pope Francis, Archbishop of Canterbury Justin Welby, and the moderator of Scotland Iain MacLeod Greenshields.
In April 2019, Pope Francis kissed the feet of South Sudan's President Salva Kiir and his deputy and rival Riek Machar, and other government officials while urging them to maintain peace in South Sudan. 
"Your excellences, in April 2019, during the spiritual retreat we held at the Vatican, your holiness kissed our feet and urged us to remain in peace. You also told us from your heart to move forward. That rare show of humility did not go in vain," he said. 
"When you kissed our feet, my brother Dr. Riek Machar was outside the country. Today, both Dr. Riek and I are seated here working collectively to implement the Revitalised peace agreement we signed in 2018," Kiir added.
The president acknowledged that the implementation of the peace agreement has been sluggish but insisted that the peace parties' unity is key in the process.
"I am aware of the huge expectations regarding the implementation of the peace agreement. I know that not everyone is satisfied with the pace of the Revitalised Peace Agreement, but what is important is that we, as parties to the agreement, are working together in the spirit of dialogue to overcome challenges before us and we will remain committed until peace is firmly consolidated in South Sudan," Kiir declared. 
Kiir said the extension of the transitional period is meant to allow for the planning and building of institutions that will oversee free, transparent, and credible elections. 
"I can firmly say we shall use the Roadmap to fast-track the implementation of outstanding provisions in the Revitalised Peace Agreement and to build on the successes we have already achieved, such as the graduation of unified forces," he noted.
President Kiir also used the opportunity to announce the resumption of the Rome talks mediated by the Catholic Church between his government and hold-out opposition groups. 
For his part, Pope Francis reiterated his call for peace in the country. 
"They need fathers, not warlords; they need steady steps towards development, not constant collapses," Pope said. 
"Dear authorities, those sons and daughters and history itself, will remember you if you work for the benefit of these people that you have been called to serve."
He further said, "Future generations will either venerate your names or cancel your names for their memory, based on what you now do".