Yei residents decry soaring prices linked to recent insecurity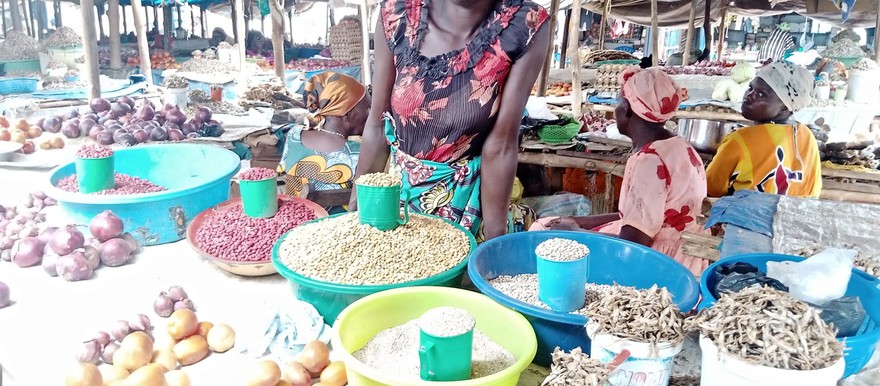 A business woman at Yei Dar-el Salam Market [Photo: Destiny Farm International]
Consumers and traders in South Sudan's Yei town are complaining about rising market prices following weeks of insecurity and attacks on major highways.
Drivers and traders who import consumable and non-consumable goods from either bordering Uganda or Juba town are on a go-slow as they fear for their lives and property after some drivers were killed and trucks torched on the major roads last week.
Agnes Sunday, a resident of Yei town said with the sudden sharp increase in prices, they are cannot afford basic food commodities.
"Life is getting worse in Yei town currently because of the high prices in the market and we cannot afford our basic needs due to insecurity in the surrounding villages and highways. I am urging the government to ensure stable security so that traders can supply goods before things goes out of control," she added.
Kiden Doreen a local retailer at Yei's Dar-el-salam market attributed the rising cost of prices in the market to a lack of supply for goods caused by a suspension of movement and transport due to insecurity.
She said consumers are forced to buy at the current prices to meet their basic pressing family needs.
"Regarding the rising prices in the market, it is because of the rampant insecurity and blockage of roads since most of the goods coming for sale into Yei markets are imported from Uganda. For instance, a kilogram of posho (maize flour) that used to sell at 300 SSP is now sold at 500 and 600 SSP in the market," she adds.
Poru Yata another consumer in Yei town too complained about the abnormal market prices as compared to the past month.
"We are getting a lot of challenges when it comes to buying goods in the market and to make matters worse, people are charging different market prices. For example, a bucket of cassava flour that used to be at 1,500 SSP, is now 2,500 SSP, and a bag of rice that used to cost us 8,000 SSP is now 12,500 SSP, and five-liter of cooking oil that used to be at 2,500 SSP is now sold at 6,000 SSP and we are suffering in Yei nowadays," he lamented.
The traders and consumers have called on warring parties to respect the cessation of hostilities agreement to end the suffering of poor South Sudanese in the urban and rural areas.
Edward Luba, the chairperson for Yei chamber of commerce said insecurity along the major roads has prevented traders from supplying goods to Yei.
"The Yei-Kaya road and Juba-Yei are not safe for movement for the last few weeks and those traders having stocks decided to raise market prices. I went to the market and I can confirm that prices are rising high and we are calling on the government to listen to security challenges facing traders on the highways," he said.
Luba warned traders against unnecessary and abnormal hiking of market prices in the town saying those found charging abnormal prices will be questioned and fined according to business regulations.