Yei governor urges leaders to disseminate Khartoum peace deal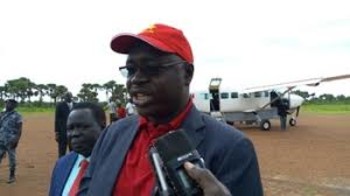 Photo: Governor Emmanuel Adil Anthony
The governor of South Sudan's Yei River State has appealed to all leaders at different levels within the state to take a lead on disseminating the Khartoum signed peace protocols.
Earlier, the South Sudanese warring parties inked a peace deal on permanent cease fire, security and governance arrangements in an effort to end the four-year old civil war in the country.
Last week, President Salva Kiir Mayardir briefed the country's 32 governors on the political developments.
Speaking at a one-day parliamentary peace awareness briefing on Thursday, governor Emmanuel Adil Anthony told members of the state legislature, heads of organized forces, county commissioners, religious leaders and civil society representatives to embark on preaching the Khartoum peace deal.
"Let all of us including us in the government of Yei River State, all the stake holders whether the religious leaders, the civil societies, women, youth, farmers, chiefs and everybody to own and disseminate this agreement because it's an agreement that is going to end the suffering of our people," he said.
Adil advised the states politicians including parliamentarians and county commissioners to shun any rebellion during the impementation of the poer sharing deal.
"I want repeat what the president has said and I hope you the members of parliament and the commissioners will not go to into the bushes of Yei again and this is a message from our president. We make sure we restore hope in our people and return our internally people suffering in the bushes and the refugees in the camps," he reiterated.
Adil stressed that it is time to bring the war to an end, restore peace and stability and embark on development for the sake of the local population.