Yei bishops urge UNMISS to work for peace and stability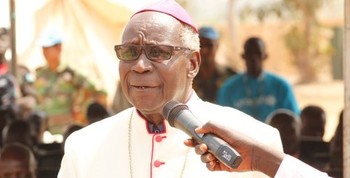 File photo: Bishop Erkulano Ladu Tombe
Religious leaders in South Sudan's Yei River State expressed gratitude for the establishment of the UN protection and peace building centre in Yei, while calling on the leadership of UN mission in the country to work to restore peace and stability in the area.
Speaking during the inauguration of the centre, the religious leaders urged the mission to take up advocacy and protective role in advancing promotion of human rights in the state.
Bishop Erkulano Ladu Tombe of the Catholic Diocese of Yei appealed to the world body to immediately embark on their sole purpose, protection of civilian lives.
"Sometimes things start in bright light but as time goes, things start slowing down and we hope this will not be with UNMISS. We will be praying and wishing that what you have started continues further with your presence. This happiness for us is to tell you, the people of South Sudan and the Government that the presence of UNMISS in Yei will make some of us to rest from talking too much. But if things don't go well, nobody will stop us from talking," Bishop Ladu said.
For his part, Bishop Hillary Luate Adeba of the Episcopal Church Diocese of Yei said the presence of the peacekeepers on the ground will restore hope, peace and protection of the civil population in the state.
"During the peak of the crisis we were worried if anything happened to us where would we go? Because in the other places where the conflict had been very serious, civilians run to the UNMISS to protect them. And today we are happy and appreciate what UNMISS has done today here. What I just want to say is thank you UNMISS, for taking the initiative although it has been overdue," he said.
Yei River State has experienced massive deaths, looting and displacement of civilians since the outbreak of the 2016 conflict.