Yei authorities destroy over 40 bags of bhang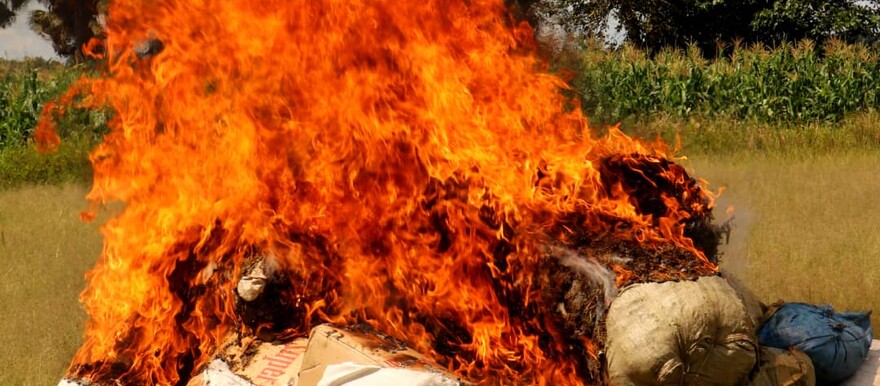 Bags of Bhang burnt in Yei River County, Central Equatoria State 19 October 2021. [Photo: Radio Tamazuj]
Authorities in Yei River County of South Sudan's Central Equatoria State have on Tuesday morning set ablaze over 40 sacks of bhang of unknown value at the army barracks.
According to the South Sudan People's Defence Forces (SSPDF) Brigade commander, John Lual, 46 bags of bhang weighing 100 kilograms were destroyed through burning in the presence of soldiers.
"As you have seen today, we are the only ones who can restore order in this country and when we see things not going well we will intervene. I want to tell the public not to deal in bhang, there are many businesses you can engage in, many commodities you can trade in Uganda or even Congo," he advises. "Half of our soldiers have died and half have gone mad because of this bhang."
Lual warns that the authorities will continue to hunt down bhang traders in the area.
The SSPDF civil-military relations officer in Yei Lt. Col. Michael Machar said, "We are a national army of the Republic of South Sudan, we are not gorillas that deal with such crimes. We are telling the public that anybody involved in selling bhang to the soldiers will be arrested."
On his part, Yei River County commissioner Aggrey Cyrus applauded the army for the bold move and says it shows a good example to the public.
"By seizing and burning the bhang, our soldiers are showing an example to this nation and the whole world that we have a responsible army that cares about their nation and citizens. I also want other army generals to follow the same example because this is where our army is destroyed," Aggrey said. "Let this bhang be burnt as a symbol of hope and peace that we as the government we want peace. We don't want those things that promote insecurity, violence, irresponsibility, and anything that promotes violence. Let us denounce it as a community and as a nation."
Early this year, the county authorities destroyed about six bags of bhang seized from locals.