Yau Yau denies forming oil company with foreign nationals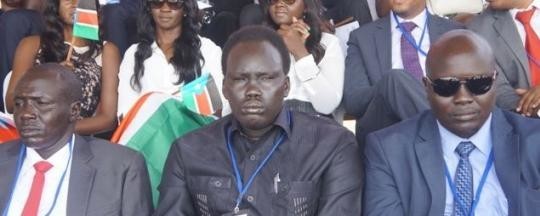 File photo: David Yau Yau (center)
David Yau Yau, the governor of South Sudan's Boma State, has denied forming an oil company with foreign nationals, saying the recent report by the watchdog group The Sentry was based on false information.
The 64-page report — "The Taking of South Sudan" — accuses multinational corporations and individuals of being "war profiteers" complicit with South Sudanese politicians and military officials in "ravaging the world's newest nation."
The report said two British citizens formed an oil company with Lieutenant General David Yau Yau who is accused of forcibly recruiting thousands of child soldiers.
Speaking to Radio Tamazuj on Wednesday, Governor Yau Yau said oil deals fall under the responsibility of the national government in Juba. "The state government cannot sign an oil agreement with foreigners because it's the responsibility of the national government, so the report is baseless," he said.
In 2014, Yau Yau signed a peace deal with South Sudan government, which integrated him and his rebel group in Boma State into the army.