Yambio receives 2,600 doses of Covid-19 vaccine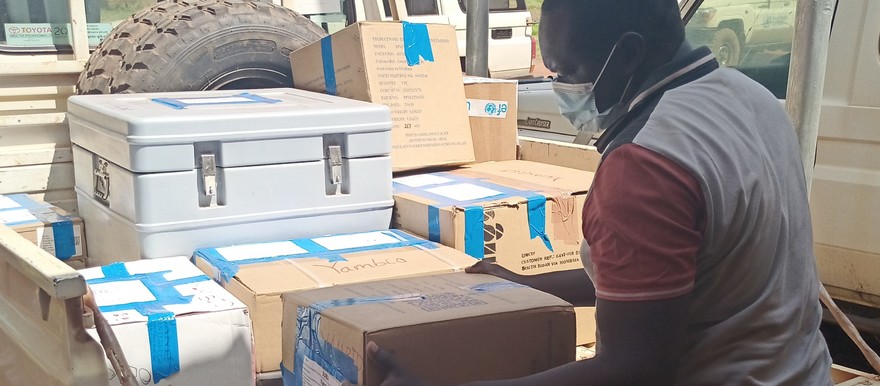 A consignment of 2,600 doses of the AstraZeneca Covid-19 vaccine arrived in the town of Yambio, Western Equatoria State, earlier this morning.
Speaking to reporters at the Yambio Airport, state health minister James Adu Votoki, said that now that they have received it, they will launch a vaccination campaign on Tuesday next week.
He tasked the security forces to protect the vaccines and urged the citizens to embrace and take the vaccine because it is safe.
"There are a lot of doubts around. Those doubts shall be clear as we will be moving around the media houses to clear their doubts. I appeal to the security around to protect these vaccines because there are people who have bad hearts," Minister Adu said.
He added, "The people who wish not to get the vaccine will plan to destroy it because of the rumours around. The government has spent resources to get this vaccine and it is coming from far away so we need to make sure that we put the potion given to us to maximum use."
Meanwhile, State Governor Alfred Futuyo Karaba, said they will support the dissemination of messages to the people to ensure everyone is vaccinated so that schools, churches, and other public events can resume in the state. He said he will be the first to take the Covid-19 vaccine so that the public can emulate him.
"The vaccine which they have brought is what will cure the disease which is destroying people and the people are doubting for nothing," Governor Futuyo said. "I know that here in this state we will tell people through the media and the chiefs so that everyone gets it so that schools can resume without a problem. I will start taking it."
Benson Wakori, the Catholic Medical Mission Board (CMMB) Programme Director, said they are going to support the vaccination campaign so that everyone gets vaccinated.
"We are sincerely happy to see that we have received this vaccine in the state. We thank the state government and other partners for their efforts to make sure the vaccine is here," Wakori said. "For us as an international Organization, we are going to support and see that everyone is vaccinated because this is the only thing that we can do to minimize the infection of the disease. Once we get so many people vaccinated, we hope the pandemic will be under control."
On Thursday, the ministry of health in Western Bahr el Ghazal State received a consignment of 2,690 doses of the Covid-19 AstraZeneca vaccine from the capital Juba.