Workshop on ceasefire concludes session in Khartoum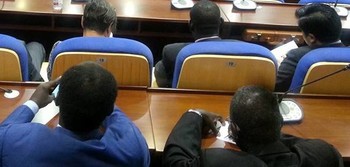 The three- day workshop on ceasefire and transitional security arrangements between the South Sudanese government and opposition groups concluded in Khartoum on Wednesday.
The programme of the workshop included ceasefire monitoring, cantonment sites and unification of forces.
Edmund Yakani, the Executive Director of the non-profit Community Empowerment for Progress Organization (CEPO), told Radio Tamazuj that the parties agreed to avail sufficient information to CTSAMM regarding the size of their troops and their location in the country.
"This will help in the issue of cantonment sites. It is going to be done secretly and separately with CTSAMM. The parties will provide maps concerning their troops, "he said.
The activist expected that the IGAD Council of Ministers will hold its meeting soon to approve the initialed documents and refer the outstanding issues raised by the opposition to the IGAD summit.