AWEIL NORTH -
20 Oct 2020
Woman arrested after man drowns in Aweil North County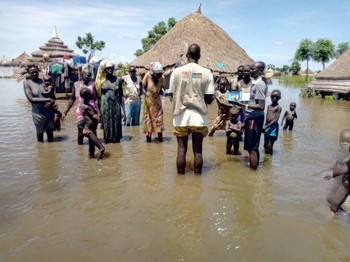 Police have arrested a woman, Arek Dut Manyoul, in Aweil North County of Northern Bahr el Ghazal State after a 45-year-old man, Akoon Kuol Dut, who she employed drowned while working in her garden.
The deceased Kuol Dut, believed to be suffering from epilepsy, fell in floodwaters while harvesting crops on Saturday in Kang Kuat village- the most flooded zone in Aweil North County.
A police officer, Agassio Kawach Kuach, told Radio Tamazuj from Malual Center Payam that Arek Dut Manyuol who employed the deceased has been detained and is being investigated.
"The dead man is called Akoon Kuol Dut aged 45-years old of Kang Kuot area in Malual Center Payam. He drowned in the floodwaters that occupied all houses about 4:26 on Saturday. The woman who he lived with and who was also sent him to work in her garden was arrested,'' Kawach said.
Acting commissioner of Aweil North County, William Deng Mou, also confirmed the death and warned both children and the elderly to be careful and avoid the floodwaters.
The family of the deceased has opened a police case for investigations.
"This person was just in the garden harvesting and in this garden had a lot of water. While he almost finished harvesting, the person who was with him went back to make lunch for him. When he came back, he could not find him. After searching, she found him drowned," Daniel Ken Lueth, a close relative to the deceased said.
William Ather, the Aweil North County health director disclosed that they have collected information from the family and concluded that epilepsy was the cause of death.
"He had convulsions and wanted to cross a place where there were floodwaters. He drowned and was found dead. His body was removed yesterday," Ather said. "According to the information we got from the family he suffers from epilepsy.''