WFP planning for Yida to grow to 80,000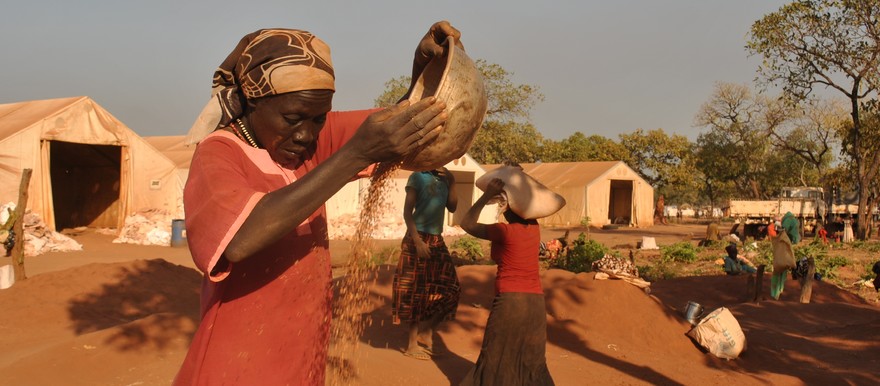 The World Food Programme is planning to feed a population as large as 80,000 at Yida camp next month as more refugees arrive from the Nuba Mountains.
Geoffrey Pinnock, emergencies officer for the UN agency in Yida, said that the size of the camp is projected to grow to 80,000 people by 15 December, based on the average number of daily arrivals over a seven day period in mid-November.
Pinnock cautioned that the population level will only hit the 80,000 mark if the camp continues to grow at the 7-day average of the week ended 17 November. He affirmed that the UN agency is prepared to meet demand regardless of how large the camp grows.
WFP's planning figures are based on information from the UN Refugee Agency, which registers arriving refugees and presently is introducing a biometric registration system to verify the size of the existing population. For its part, the UN food agency does its own contingency planning.
The agency official explained that he expects airdrops to continue into early December or beyond because road conditions are still too poor for large trucks. Every day an Aleutian 76 aircraft flies from Juba to Yida twice daily to drop 66 metric tons of food at the camp's airstrip.
"This camp eats 1000 tons a month," he noted, acknowledging that the airdrops are expensive but probably will be phased out next month.
Efforts to bring food by land have already begun, with three 12-ton trucks en route with stock from Bentiu and Pariang and others via the Juba-Wau-Abiemnhom supply route.
In spite of improving roads as the seasonal rains end, a number of 'chokepoints' remain. The route Pariang-Panyang-Yida, one of several tracks to the camp, is "extremely narrow and extremely heavily forested," according to Pinnock, making it unsafe for trucks large than 10 to 20 tons.
Another route from Pariang passes directly to Yida without passing Panyang. This could serve as WFP's main supply route but it was heavily rutted by traffic during the early rainy season.
Photo by Radio Tamazuj: Supply area at the Yida airstrip, 21 November 2012.