WESTERN LAKES -
24 Jun 2019
Western Lakes State government bans illegal arms possession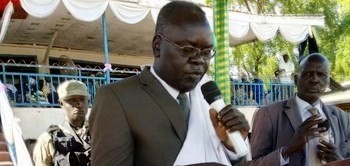 Western Lakes State Governor Major General Mahmuod Solomon Deer Agok (Radio Tamazuj)
Authorities of South Sudan's Western Lakes State have banned the possession of illegal firearms in the state.
Governor Mahmoud Solomon Deer Agok in a gubernatorial order issued on Friday prohibited the carrying of illegal arms by the youth in all counties across the state.
"I, Major general, Mahmoud Solomon Deer Agok, governor of Western Lakes State do hereby issue this order for the banning of illegal armed person movement within the headquarters of all the eleven (11) Counties of Western Lakes State," partly reads the order.
Solomon further instructed the minister of local government and law enforcement agencies and all county commissioners to implement the order.
Arik Kuol Arik, a resident of Rumbek municipality welcomed the order saying the crime rate had gone up because of the armed youths in the towns.
"In the cities, there are many crimes that usually take place, especially at night. The youth that are carrying arms illegally come from the villages and later at night, they steal from people at gunpoint," said Arik.
He added that if the order is implemented, the people of Rumbek can go about their lives without fear of attacks.
Another resident, Umjuma Emmanuel Kamisa, said the new order will reduce incidences of crimes and revenge killings.
However, for his part, Akol Mamer said for the order to be effective, comprehensive disarmament should be carried out.
"The governor's order is good, but we need the civil population to be disarmed," he said.