By Carl Odera -
12 Oct 2021
Western Equatoria: Nodding disease stumps villages and doctors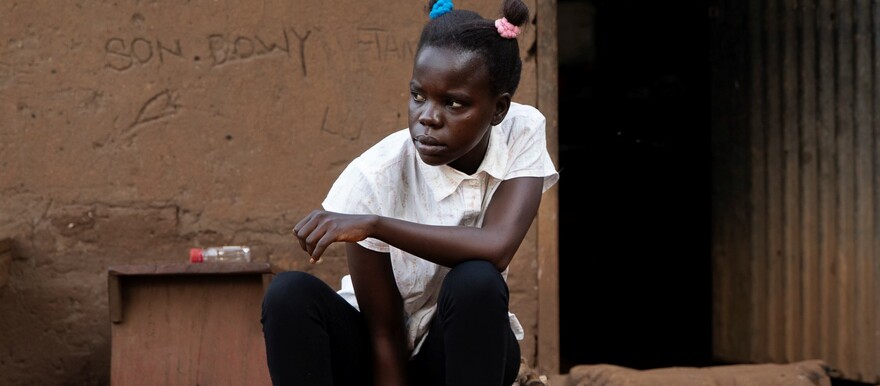 Several years after it was first reported, a debilitating neurological disease with unknown etiology continues to shake communities in South Sudan's Western Equatoria state and still has the medical community stumped.
Prior to its classification, a baffling mix of symptoms, including repetitive nodding of the head and impaired motor functions, inexplicably kept children out of schools to waste away slowly to their death.
The cases usually clustered around riverbanks, later identified as breeding grounds for the suspected diseases carrier, a species of blackfly.
The diseases, first documented in the United Republic of Tanzania in the 1960s, then later in Sudan in the 1990s and in northern Uganda in 2007, was in recent times termed Nodding Syndrome.
Dr. Andrew Marayan – a clinician at the Nodding Syndrome Alliance clinic, a consortium that proposed and currently implements a project aimed at responding to the specific health, food security, education, and livelihood needs of the people with epilepsy and Nodding Syndrome, led by Amref Health Africa – claims that the Maridi County Hospital, where the consortium operates, hosts 1,158 patients.
"We have treated over 400 Nodding Syndrome patients as well as about 700 people diagnosed with epilepsy, since we started the clinic", reveals Dr. Marayan.
Before the initiation of the clinic, the community relied upon traditional medicine that didn't help much, he notes. "The NSA partners provide a much-needed treatment".
"We provide patients drugs for 30 days, as we observe them. Thenceforth, the patients continue treatment unaccompanied, and return for a monthly review. We observed that in most patients, since starting treatment, seizures were completely controlled".
"Some can spend up to 3 to 5 months with no seizures," says Marayan.
As the Coronavirus raged across the world in the past 15 months, this medical enigma has not competed for the spotlight during the global pandemic. Luckily, Maridi registered its first and only COVID-19 case in March 2021.
However, the murkiness over the Nodding Syndrome reflects how, despite the extraordinary progress that medicine and science have made in the past decades, some neglected conditions such as Nodding keep puzzling the scientific world and affect over one billion people.
Cecilia Ju, 43, takes care of her sixteen-year-old grand-daughter, Joyce Ju. On a downcast afternoon, they gathered in front of their tukul, preparing a leafy dinner. Cecilia says she doesn't even know the name of the diseases affecting Joyce, "but it has really hurt us".
"I would have liked [Joyce] to continue her studies. I feel sincerely hurt, because I know all my efforts to keep her at school have been futile".
Among the youngest victims of Nodding Syndrone in Maridi is Jackline Elia. To reach her home, we walk through a footpath of gaping gullies that were once a road.
Her mother, Mariam Philip Genti, has been informed of our visit, so she earlier made Jackline's older brothers slash down a few meters of searing lion grasses that engulfed our way.
Outside her hut, Mariam sits on a low stool, sifting through, and slicing large green leaves to make dinner, and spoke gently of her children, both past and present.
"I had seven children, three died of this same disease, two have been spared and two are currently sick. One died at the age of six and two followed, at three. Jackline is my last born and now, she is also sick", Mariam tells me in her native language, via a translator.
"In November last year, Jackline developed health complications that were consistent with Nodding Syndrome", her mother narrates, in relation to the beginning of her suspicion for her daughter's condition. "I took her to the nearest hospital, but no examinations were done".
"But in January this year, I came to realize that when food was brought, or when she sat at home alone, she would nod her head intensely. That is when I knew".
Jackline, seated on a bamboo stool, poses a fixated and vacant stare, as if we're not there, only making indistinguishable sounds when talked to. Her thin and wiry look leaves one in doubt about her stated age. But she plays with other kids, as they hop and jump around her.
Mariam's family is a replica narration familiar to close to 500 families in the community.
Janette Manal Badi Goerge, another single mother of two, cares for her sick son and daughter at home.
During a visit, we had found her kneading dough for her bread-making business, locally know as 'esh'. Her daughter and son are both affected by Nodding Syndrome.
She claims that before her kids were put on medication, she couldn't do other things, other than care for them.
"Before, my mind and body were both constantly with them, wondering what could happen to them". Janette emotionally turns her gaze away to a small garden of cassava trees whose leaves are now gleaming with sunrise and dropping due.
"I live for my children".
In the morning, she will prepare breakfast; tea with local spices and doughnuts for her children before they partake their daily dose of anti-epileptic drugs.
When they take the medicine, they get hungry easily. "My daughter sometimes takes her plate to the neighbor's house to beg for food. We need food for these children. They need to be taken care of more than one can imagine".
Janette wonders why the sickness has eluded scientific understandings for so long. She asks "how it is possible to now cure COVID-19, yet [they] continue to suffer. We know so little about the disease, what to do, what to avoid. It's excruciating".