Wau rally denounces attacks on Darfur frontier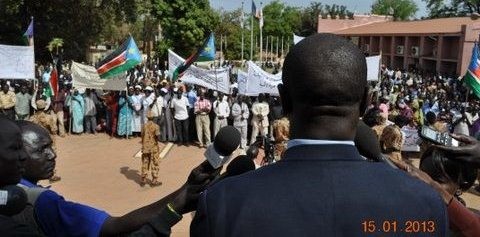 Citizens rallied in Wau on Tuesday to denounce recent attacks by Sudanese forces along the disputed border with Darfur.
The citizens marched from al-Salam square up to the state government general secretariat chanting "Kitkit is one hundred percent South Sudanese land."
The government of Western Bahr al-Ghazal accuses the Sudanese Armed Forces of carrying out attacks on the SPLA position in the frontier areas of Raja County, specifically Kitkit and Deim Jalab.
Derik Alfred, the state government spokesman and information minister, told Radio Tamazuj that Sudanese forces and militias carried out the attacks, which he described as ground attacks rather than aerial ones. About 50 wounded were transported to Wau Hospital, the minister added, without providing details.
Speaking to Radio Tamazuj, one of the protestor said that the marches coincided with the eve of the Kiir-Bashir summit in the Ethiopian capital, Addis Ababa.
A statement released by the government in Wau called the march a "government and popular initiative to denounce atrocities in Kitkit." It claimed that Sudan attacked Abu Juku on 29 December and Kitkit on 2 January.
"The attacks in the mentioned areas, besides the area of Deim Jalab recently have left many children, women, elderly people, abductions of people, injuring and murdering of some soldiers who were rightfully protecting their beloved lands as their national duties and obligations," the statement read.
A witness from the government general secretariat told Radio Tamazuj that the protestors handed over a memo to the United Nation representative in the state and condemned the violations of the Sudanese armed forces on the territory of Western Bahr al-Ghazal.
A similar rally was reportedly organized in Raja denouncing the same incidents.
Sudan and South Sudan dispute ownership of the so-called Kafia Kinji Enclave, which contains the Radom wildlife preserve and the Hofrat an-Nahas mineral deposits.
The statement from Wau on Tuesday detailed the southern claims: "We want to make it clear to the whole world that, the areas of (Erre -Timsaha), Kitkit, Abu Juku, Balbala, Hufora Nihas, Kafia Gangi and Rodom are solid lands of Western Bahr El Ghazal State and the Republic of South Sudan."