Wau Juvenile Prison inmates lack food, medicine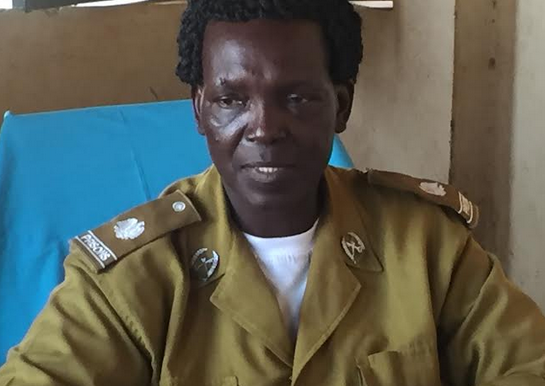 Maj. Fidele Awa of Wau Juvenile Prison. (Radio Tamazuj photo)
Nearly 100 Juvenile prisoners in Wau, Western Bahr el Ghazal State, lack adequate food and medicine, a correctional officer said.
The director of the juvenile prison, Major Fidele Awa, told Radio Tamazuj Friday that the facility currently houses 96 juveniles who have been facing challenges with feeding since the beginning of May due to a lack of funds and delayed supplies.
"The problem is the economic crisis because the contractor has not been paid in time so he is not able to provide the food on time also. Of the total 96 inmates, 55 are convicted and 35 are on remand," She said. "Most of them are boys while 6 are girls. Most of their crimes are rape cases. 75 are under section 247 of the Penal Code which is rape and the others are minor cases like theft."
She added: "We have about four children who have been sentenced under section 206 which is murder, they killed their colleagues."
Maj. Awa said among the female juvenile inmates, 2 are awaiting trial while the other four have been convicted for 6 months.
"The 2 female inmates are on remand for theft while the 4 others fought among themselves and were sentenced to six months in jail," she added. "This facility is in a bad state because we are having a shortage of medication for the children and the food is not enough. We do not have electricity and the facility is completely dark."
She said the children last had a meal of posho and beans two days ago.
Maj. Awa said her department is engaging the juvenile offender in different vocational training skills.
"We are engaging them in doing a lot, sending them for vocational training and training them how to grow vegetables and many other things," she said. "My message is that these children are the future of this country, lets us collectively bring them up so that they replace us tomorrow."