Wau governor urges IDPs to return home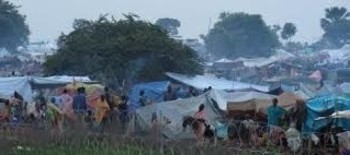 The governor of Wau State, Angelo Taban has urged civilians living in the UN Protection of Civilians' site (PoC) in the state to return to their homes.
Thousands of civilians have lived in the UN camp in Wau town since 2016.
Speaking during last week's Martyrs Day celebration, Taban said the security situation in Wau town has improved and wondered why people were still living in camps after the signing of a peace deal.
"Leave the meager resources you are getting inside and come out to rebuild decent lives after the signing of the peace agreement," he said.
The governor insisted that the conflict that forced large numbers of people to seek shelter inside the UN compound has now ended.
"I am appealing to children, women, youth and chiefs that insecurity in Wau has ended," he stressed.
In September 2018, President Salva Kiir, rebel leader Riek Machar and a handful of other opposition groups signed a peace deal to end the country's civil war that killed tens of thousands of people and displaced millions.
The parties extended the formation of the unity government to November in order to implement key provisions such as creating a unified army and determining the number of states.