Wau detainees: 4th day of hunger strike in call for due process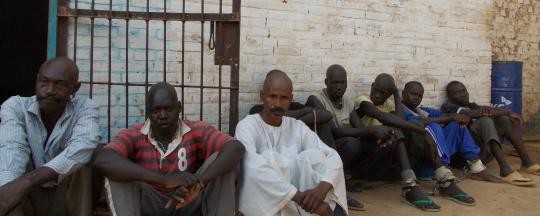 Twenty-four detainees in Wau Prison are on their fourth day of a hunger strike in order to demand that their case goes to trial.
Luka Anthony,a former state adviser for youth and sports, claimed, "The strike is ongoing until our case is referred to the court." Others awaiting trial include police officers, former constitutional stakeholders, MPs and some youths, he confirmed.
The detainees were arrested in connection to clashes in Waulast December which claimed at least 12 lives and resulted in the destruction of a great deal of residents' property. The violence followed youth protests over the move of a county headquarters from the state capital to the village of Baggara.
Luka claimed in an interview with Radio Tamazujthat since their detention on 24th December 2012, some have not had the opportunity to appear in court or be subject to due process. All are accused by the Western Bahr el-Ghazal state authorities of having instigated the violence in one way or another, an allegation that Luka denies.
The detainee added that constitutional post-holders supposedly enjoy immunity from prosecution and, given that this hasn't been formally removed, he claimed that the detention of these figures is unlawful.
"We were detained in security detention for one month then we were transferred to Wau prison on the 2nd of January and until now our files haven't been referred to the special court [although the] duration of this special court will ended on the 15th May," he recalls.
Responding to questions on their health condition, Luka claims:
"Now we are on the fourth day of our hunger strike and our health situation has started declining."
The former official claimed that all detainees are suffering from diarrheaand, among those most affected, is the former minister of information, Sebit Baptist.
The group claimed that their lawyers have requested that the court review their cases but have been informed by the Attorney General that there are no more outstanding cases related to the Wau clashes.
"The attorney general in Wau laid to the court that there are no people in detention in relation to Wau even and yet we are in prison," one of the other prisoners reported anonymously before accusing the official of violating the constitution.
Referring to their treatment as 'delay tactics', some of the group members speculated that their situation is down to a strong relationship between security agents and the Attorney General.
"When we started the strike," Luka claimed,"we were subjected to more bad conditions by the authorities." He added that one of the prisoners is reportedly being held in solitary confinement in a cell known as, "Zamzam, the most inhuman place to live."
One of the prisoners noted that "… justice delayed is justice denied for the citizens of this nation."
File photo: A prison in South Sudan (Radio Tamazuj)
Related: 23 detainees in Wau on hunger strike (9 April 2013)