Warrap: Trade minister vows to control market prices as SSP makes gains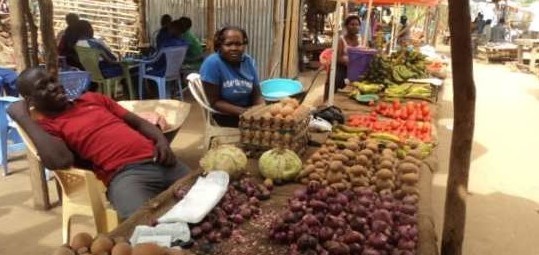 The minister of trade and industry in Warrap State, Dr. Joong Anthony Deng, on Monday vowed to control market prices because the local currency has made significant gains and remained relatively stable against the US dollar.
He said his ministry came up with price control mechanisms that control both food and non-food commodities so that the citizens of the state can live affordably.
"When the dollar started reducing, the ministry of trade under the directorate of commerce and supply formed a committee of five members of all economic sectors, and it was tasked to control the prices. Some of the traders were still selling a sack of sorghum at between 26,000 and 27, 000 SSP which is still against the common person," Minister Joong said. "Take, for example, 100 kgs of sorghum were sold at 32,000 SSP but as the dollar reduced, we brought it down as per exchange rate prevailing in the market and it now costs between 17,000 or 18,000 SSP. 50kgs of Sugar was at 26, 000 SSP and it is currently 20, 000 SSP, which is very good for our people."
He acknowledged that the country does not manufacture most essential commodities and that this has made prices drop slowly.
"Non-food items are not that (prices) low because we import them from Sudan which is also affected by high inflation. Other goods are coming in through smuggling, like cement, zinc (iron sheets), and other building materials, but the ministry put them in phase two. We are done with foodstuffs and we will check (prices) for building materials as well," Joong said.
The Executive Director of Tonj South County, Natale Nhial, said the price of sorghum was reduced due to humanitarian aid but that prices for sugar and flour remain high.
"The prices of March, May, and June are still prevailing in the town although there is a little reduction. 50kgs of Sugar was 26,000 SSP and it was reduced to 20,000 SSP. The same thing to a bag of sorghum about 20 malwas is now 18, 000 SSP," Nhial said.
kuajok residents said the government should continue controlling and monitoring prices so that goods are affordable.
Mathiang Garang, 21, said, "The dollar (rate) is reduced but prices are a bit high. A sack of sorghum is 18,000 SSP and a kilo of meat is 1, 000 SSP, but some items are still high, like clothes."
Aluel Thuc Marik, a mother of four said she shops for food daily because of lack of money but complained that certain types of sorghum were still expensive.
"I cannot afford to buy in sacks because it needs a lot of money, instead I just buy kilos and malwas for my family. One malwa of feterita (sorghum) is 700 SSP, Defera costs 800 SSP compared to the past prices of 1,000 and 1,200 SSP respectively. The original sorghum of Dinka called Nyithin is still 1,200 SSP like before," Aluel said.
53-year-old Angeth Mathie Agok, a vendor who sells groundnuts said commodity prices have been reduced but that people do not have money.
"Things have reduced, like meat, sorghum, flour, and others, the prices are not like before. The prices have reduced but there is no money," Angeth said.