Warrap State: UNDP trains 30 govt officials in tackling gender-based violence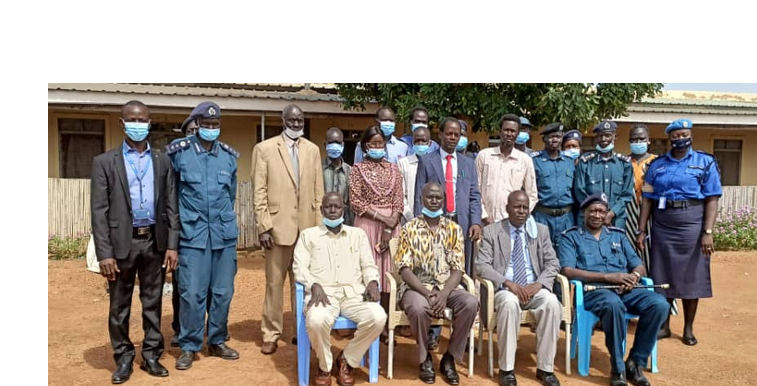 The participants at the UNDP training on handling gender-based violence cases

The United Nations Development Programme (UNDP) on Tuesday started training officers drawn from various departments of the Warrap State government on how to respond to, investigate and handle cases of gender-based violence.
According to George Kadima, a UNDP security specialist who is facilitating the training, the four-day exercise taking place at the Volcano Hotel in Kuajok town will also inculcate gender sensitivity when responding to cases.
"We are training the special protection units of the ministry of gender, investigators from the police, legal administration, and we also have participants from the judiciary," Kadima said. "That is the whole justice chain and those are the people who respond to cases of gender-based violence. We are training them on how to be gender-sensitive when responding and when investigating cases that are related to gender-based violence."
He said South Sudan is a patriarchal society where the males take precedence and dominate the females and even through interaction, the females are looked at as the lesser gender.
"This does not only happen in the villages. For example, if you go to the justice institutions like the police, a female can go there to report a case and is told that is a case that should be handled by a customary chief and yet it is a case that should be handled by the police," Kadima explained. "So, we are trying to create awareness through this training on which cases fall under gender-based violence which police can investigate."
The security specialist said the police and other legal officers should empathize with complainants and put themselves in the shoes of the person who has come to receive that service or needs information from them instead of having biases or stereotypes held by the communities.
Regina Peter Awer, a female police officer said the training has taught her how to investigate rape cases.
"I appreciate the UNDP because they trained us on how to investigate violence against women and how to protect ourselves as female police officers when investigating issues. We learned how to deal with issues of rape because there are signs which qualify the victim to have been raped like when inner-wears are torn and bloodstains on the clothes," Awer said.
Andariano Anyuon Madut, a state legal officer, said gender-based violence is rampant among the communities in the state and that the people are not aware of their rights.
"I am trained on the rights of the child, that is to give equal rights to the girl child and boy child and how a wife and husband should behave themselves and solve their differences through non-violence means. This training did little but the majority of our civil population are not aware of all these rights," Anyuon said.