Warrap state to administer J&J Covid-19 vaccines this week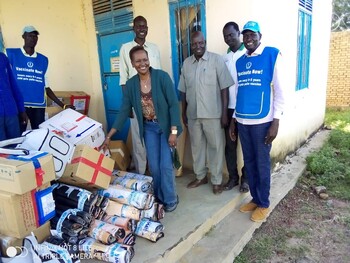 Ministry of health officials in Warrap State. [Photo: Radio Tamazuj]
South Sudan's Warrap state ministry of health says it will begin the administration of the over 6,000 doses of the Covid-19 Johnson & Johnson vaccines on Thursday.
The acting director-general in the state ministry of health John Akot Tong told Radio Tamazuj that the state received the doses last week and will distribute them to all the counties.
"I received the Johnson & Johnson that is Covid-19 vaccines last week and today we were discussing how we will implement the vaccination and we agreed that it is the routine vaccination. After the macro plan, training will be conducted first then vaccination will start on Thursday within this week," he said. "We already have 6,440 doses of J&J, it is the same number of doses as the same number of people who will be vaccinated because Johnson & Johnson vaccines is taken once so we expect the same 6,440 recipients of J&J vaccines in 21 vaccination centers."
Akot encouraged the people of Warrap to turn out for the vaccinations saying the vaccines are safe and no one was affected by the first and second AstraZeneca vaccinations in the state.
John Akol Akol, the health ministry's director for surveillance said all primary health centers will receive the vaccines.
"On 10th, we received over three hundred vials of J&J vaccines and our health workers are undergoing training in Wau. When that is finished immediately, we will roll out the vaccines.... our challenges will be transportation because of floods and insufficient vehicles," he noted.
Akol urged the national health ministry to avail more AstraZeneca vaccines for persons who received their first doses, saying the Johnson & Johnson vaccines are for people who have not received any vaccines yet.
"For those who have taken their first dose of AstraZeneca vaccines during the second round of AstraZeneca vaccines will not be vaccinated using J&J vaccines, the state ministry of health is in communication with WHO and other health partners and national health authorities for more AstraZeneca vaccines."
Mid last month, the United States donated 152,950 doses of the single-shot Johnson & Johnson Covid-19 vaccine to the people of South Sudan.