Warrap murder case: Prosecution calls for pre-investigation of crime scene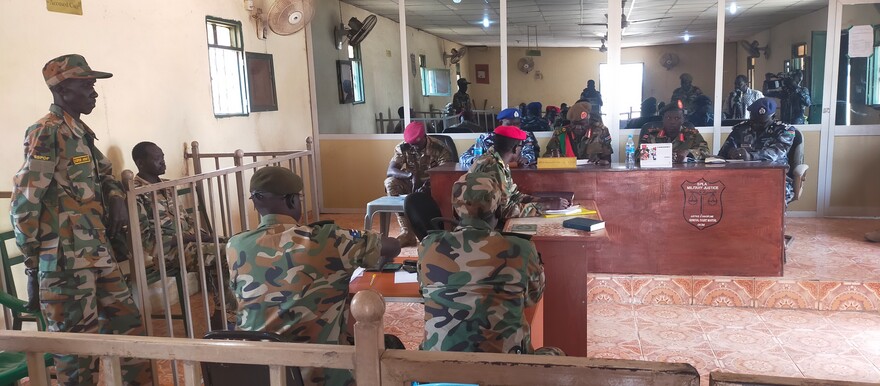 General Court Martial proceedings in Juba, 10 February 2023. [Photo: Radio Tamazuj]
The prosecution team in the case of an SSPDF soldier who allegedly killed three Syrian Nationals and a South Sudanese have been granted one week by the General Court Martial to conduct pre-investigation at the crime scene.
 
During the hearing on Friday, the head of the Prosecution team led by Lt. Col. Andrew Yak Nyok readout the statement given by the accused Private Yak Garang Yak which he attested of killing the three Syrian nationals and the South Sudanese man who was killed by a stray bullet. 
During the testimony in his statement, the accused confessed that he killed the three Syrians because of poor working conditions. 
Pvt. Yak said the Syrian company they worked for paid him a wage of SSP 1,000 daily and that it could not cater to his needs due to the high cost of living. He also accused the company of denying him and his family members medical insurance.
In his testimony, Yak said he spared the life of the fourth victim so that he could inform the families of the deceased of what transpired. Unfortunately, he also died.
After the testimony, the Prosecution team requested the court to grant them two weeks to visit the scene and collect all evidence but the court presided over by Maj. Gen. Majok Michael Chan, President of the General Court Martial granted them only one week. 
"To conduct pre-investigation at the spot or crime scene for the formant, potential witnesses, and other crime material exhibits as we shall be waiting for possible facilitation to the scene site from South Sudan`s People's Defense Forces (SSPDF)," said Lt. Col. Andrew Yak Nyok.
Meanwhile, the Defense Team led by Captain Malook Lual requested that the immediate command officer for the accused who was in Akon be summoned before the court.  
Private Yak Garang Yak, a member of the Tiger Division which protects the president is accused of shooting three Syrian construction workers who were building President Salva Kiir's house and a young man in Akon village on 7 January.