Warrap killer soldier Private Yak Garang pleads guilty to all charges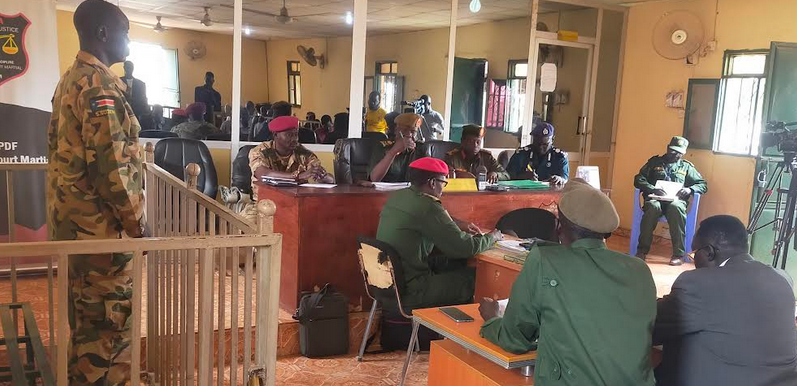 Private Garang (L) in the dock during General Court Martial proceedings in Juba on 28 February 2023. [Photo: Radio Tamazuj]
The South Sudan People's Defense Forces soldier accused of killing 3 Syrian nationals and a local youth in Akon Village in Warrap State today (Tuesday) pleaded guilty to all 3 charges brought against him in the army's General Court Martial sitting in Juba.
Private Yak Garang Yak, a member of the Tiger Division which protects the president is accused of shooting three Syrian construction workers who were building President Salva Kiir's house and a young man in Akon village on 7 January.
Among the charges framed against and read to him by Maj. Gen. Majok Michael Chan, the President of the General Court Martial, include murder under section 83 of the SPLA Act 2009, read together with Section 206 of South Sudan`s Penal Code Act 2008, Section 83 read together with 327 for damaging a vehicle, and Section 67 of the SPLA Act 2009, disobedience of lawful orders. 
The court asked the accused if he was guilty or innocent of the charges and he pleaded guilty.
"Did you kill the Syrians Yassir, Jihad, and Abdulsalam?" the president asked Garang.
"But what annoyed me to the point of killing them? Yes, I killed them," the accused replied, "I also shot at their car and was told by my commander that I was under arrest but not immediately arrested."
Asked if he understood and was guilty of the charges read to him, Private Garang said, "Yes I have understood the charges and I am guilty."
After being read the charges and pleading guilty, Private Garang's defense team led by Maj. William Johnson Dut insisted on their initial application to have their client sent for a mental checkup to ascertain that he was sane and lucid but the Presiding Judge threw out the application.
The court asked the defense if they had witnesses to present in court but they said they did not have any.
The court adjourned to Friday 3 March when it will make a final ruling.