Warrap gov't, security chiefs on a fact-finding mission to Tonj North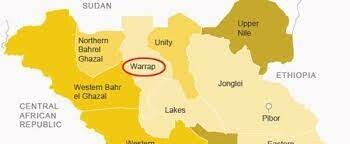 South Sudan's Warrap state government officials and security chiefs on Monday left for Rualbet Payam of Tonj North County on a fact-finding mission after deadly clashes between government forces and civilians last week.
18 government officers including Military Chief of Intelligence Division 11 Lt. Col. Akec Ciman Paac, SSPDF Division 11 Military Chief for Operations Maj. Santino Kuot Kuotdit and seven civilians died and scores were injured after Rualbet youth attacked the SSPDF disarmament forces ordered to reclaim stolen cattle.
Riding Deng Adiing, the state information minister, told Radio Tamazuj that the team is on a fact-finding mission. 
"Today the acting governor of Warrap state, chief of the defense force, and director for national security are now in Thiet town of Tonj South County heading to Rualbet Payam where SSPDF fought with armed youth last week," he said. 
He adds, "They came with small forces to replace those who were assigned there for disarmament because the host community has no longer trusted soldiers and the purpose is to talk to local communities and find out the root cause of the fighting."
According to minister Deng, many soldiers were killed while retreating following orders from their leadership.
"The soldiers were not defeated by armed civilians, they (SSPDF), obeyed and respected their leadership because they were ordered not to retaliate," he added. 
Meanwhile, Bak Ajuot, Tonj North acting commissioner, confirmed the visit. 
"The government is now in Thiet and the reason for going is to take guns from armed youth. The local chiefs are also to report the identified perpetrators," he said. 
Last week, information minister Deng warned that if the armed youth do not return the raided cattle and surrender their arms to the government, the state government will conduct a military operation in the area.