Warrap Governor vows to restore law and order in the state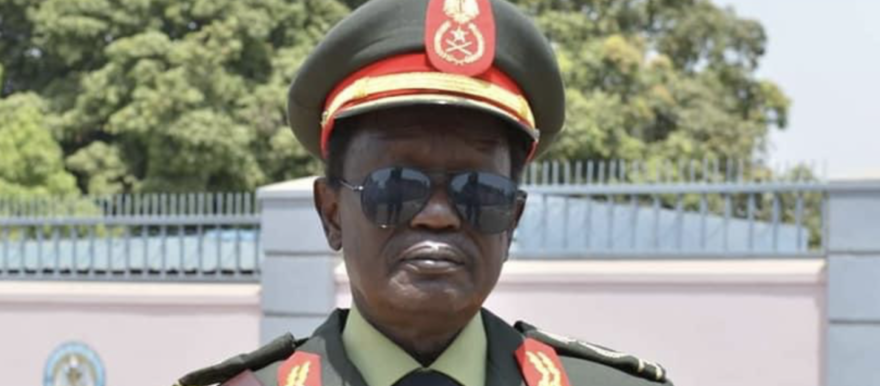 Newly appointed Warrap state governor Aleu Ayieny leaving Juba for Kuajok on Friday, February 26, 2020. [Photo: Facebook]
The newly appointed Governor of Warrap state, Gen. Aleu Ayieny Aleu, has warned perpetrators of intercommunal violence and cattle rustlers of imminent and severe penalties if they refuse to abide by the law.
Addressing the public at Kuajok Freedom Square last Friday shortly after landing, Aleu said he had been instructed by President Salva Kiir Mayardit to restore law and order in the state.
The governor who arrived in the state capital, Kuajok from Juba on Friday afternoon in military attire, said no stone will be left unturned until lawbreakers are brought to book.
Aleu, a former interior minister said two courts to handle criminal cases are in place and would soon embark on their duties as directed.
"The law that has been violated is what I have come to recover. I have come with courts- one is in Tonj and another one will be here. We know what is happening because we started it. During the time we were in the bush, we decided to arm civilians called Gelweng to protect their cattle from northern militias because there was no way we could fight the government in Khartoum and protect cattle from the militia. After the war that Gelweng was not taken care of and as such they are now the ones stealing and raiding cattle," Aleu said.
The governor equally warned civil servants handling state money especially cashiers and accounting officers who have inflated state payrolls with the names of ghost workers, of looming dark days.
Governor Aleu has also underscored prioritizing reforms in the local government system saying there can never be a feasible nation without a proper local government system in place.
According to Aleu, he will ensure that there are robust payams and counties which he says will ultimately form a strong foundation for the state and the country.
"If there is no viable local government there will be no Juba because it is strong payams that can create strong county and strong counties contribute to strong state and strong ten states can contribute to strong Juba, it is not Juba that can be strong alone that does not work," he added.
Governor Aleu disclosed that he would reduce the number of executive chiefs in the state, saying that has aided corruption.
Meanwhile, the deputy chairperson for Warrap State Civil Society, Bona Malual Akec, welcomed the state formation and said the power vacuum had led to insecurity across the state. He added that the people are now hopeful and expect service delivery.
"There was a power vacuum in the state and even in the county and now that the government is fully formed, the county government will be in place, and then the state government will be in place. We need the government to unite, they should not separate themselves that this is from this party or this is from that party. We are people of Warrap state, we are people of South Sudan and our goal is one, we want to deliver services to our people," he stressed.
On disarmament of the armed civil population, Malual appealed to the authorities of Warrap state to prioritize dialogue before a forceful disarmament exercise.
"The first step is the dialogue, we call community leaders, the youth, the women and make dialogue, we will support the government, and we will discuss what are the problems. This is the first step and if they refuse later then the government will come in with plan B that plan B will be forceful disarmament. But if they put down their guns then we will also ask the government to provide protection against aggression from neighbors," he advised.
Malual further called on Juba to expedite the formation of both national and state transitional legislative assemblies to help the executive in service delivery.