W. Equatoria govt forms fact-finding committee on Tambura violence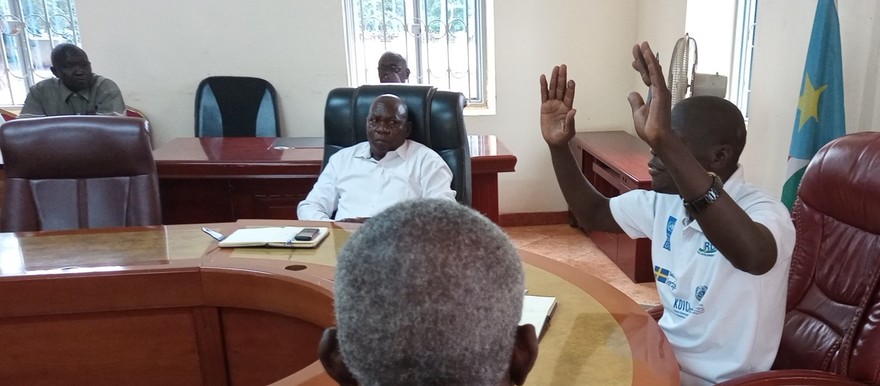 The government of Western Equatoria State has announced the formation of a nine-member fact-finding committee to assess the security situation in Tambura County.
On Monday, gunshots started in the villages of Matarungu, Nambia, Akpa, Bangaru, Maku, Dingimo, and Basanabaru. The violence-affected area is deserted, as local residents ran for their lives to neighbouring villages when unidentified gunmen stormed in, firing guns and destroying their homes.
Officials in Tambura town reported that more than 4,000 people had been displaced by the violence.
Speaking to Radio Tamazuj on Wednesday, State Information Minister William Adriano Baiki said the fact-finding committee to be headed by Local Government Minister William Richard is tasked with assessing the security situation in the area.
He further said members of the committee will visit the affected villages in Tambura and recommend to the government possible solutions to the conflict in the area. The committee members are to submit their findings to the state government within two weeks from the date of the decree, which was Monday.
"We are going to look at the case of Tambura and how we will move forward with the resolution as the state government. We are not going to wait for funds or anything from Juba. We the state government have to go to Tambura and make sure that the SPLA-IO forces in Namatina and Zamoi and the forces loyal to Gen. James Nando are assembled and taken for training," he explained.
In March 2020, Gen. James Nando Mark, the Sudan People's Liberation Army-In-Opposition (SPLA-IO) Division Commander in Western Equatoria State defected to the South Sudan People's Defense Forces (SSPDF).
Last week, Western Equatoria State Governor Alfred Futuyo and the First Vice President Riek Machar agreed to relocate the SPLA-IO forces in Namatina and Zamoi to Rii-Rangu and Maridi to pave the way for a peace and reconciliation conference in Tambura.
Edmund Yakani, Executive Director of the Community Empowerment for Progress Organization (CEPO), who was attending a three-day community dialogue in Tambura, blamed the political elite from Western Equatoria State for orchestrating the clashes for personal gain.