VP Igga says anti-peace elements will be treated as terrorists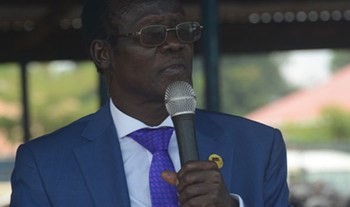 Vice President James Wani Igga addressing the public in Yei River State on Monday, Radio Tamazuj
South Sudan's Vice President James Wani Igga says rebel groups fighting South Sudan's government will be referred to as terrorists and be treated as such after the pre-transitional period is over in 8-months' time.
South Sudanese warring parties on 12 September signed a peace agreement aimed at ending the 5-year civil war that killed tens of thousands of people and displaced millions.
But a splinter group of the South Sudan Opposition Alliance that include Thomas Cirillo, leader of the National Salvation Front, PDM leader Hakim Dario, NDM spokesman Emmanuel Aban and UDRA leader Gatwech K. Thich did not sign the deal.
James Wani Igga addressing a public rally at the Yei Freedom Square on Monday said that the parties to the revitalized peace agreement are committed to implementing the peace agreement.
He said those not party to the agreement will be considered terrorists by the unity government of South Sudan and the IGAD countries. The rival leaders are expected to form a transitional government to run for three years after the pre-transitional period.
"After that any person still in the bush will be considered a destroyer. Uganda and Sudan have agreed not to support any person waging a rebellion in the region. They said any person doing that will be considered a terrorist and will be dealt with accordingly," he said.
Despite the signing of the cessation of hostilities agreement and the revitalized peace agreement, conflict continued between rebel groups in Yei River State, receiving wide condemnations
Vice President Igga along with a high-level opposition delegation led by General Julius Tabuley, deputy chairman of the NAS faction are in Yei town since Sunday morning for a peace mobilization campaign.