Visually impaired persons demand specialized schools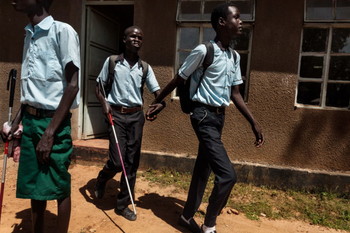 Visually impaired schoolchildren at Rajaf Basic School for the Blind in Juba [Photo: witnessimage.com]
A group of persons with disabilities on Tuesday called on the Central Equatoria State government to build more schools for the blind and visually impaired, saying they have been marginalized in all sectors of society.
Speaking during a meeting with state officials, a representative of the visually impaired persons Bernad Longa Clement said visually impaired children find it difficult to fit in ordinary schools as they have special needs.
For her part, the State Advisor on Gender and Social Welfare Mariam Aguli Zacharia acknowledged the concerns and promised that the government will deliberate the matter.
Mariam said the government has already waived school fees for children with disabilities. But they are still in talks with owners of private schools to do the same.
The call was made at a meeting between representatives of the visually impaired persons and state officials in Juba on Tuesday.