Violent brawl leaves 20 dead at Gendrasa camp in Maban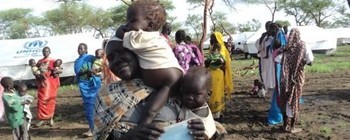 Photo: A woman and child at a medical transit site in Jamam Camp near the MSF-Holland clinic, June 2012. (Radio Tamazuj)
At least 20 Sudanese refugees were killed at Gendrasa refugee camp in South Sudan's Maban County after fighting erupted between supporters and opponents of the SPLM-N leader Malik Agar over the past three days, several eyewitnesses said.
Reportedly, the dispute among the Blue Nile refugees started as a result of the recent decision by the Nuba Mountains Liberation Council suspending the SPLM-N secretary general Yassir Arman and withdrawing the negotiation team.
The eyewitnesses told Radio Tamazuj on Thursday that the bodies are still in the bush while many refugees left the UN camp. They also claimed that chiefs and elders at the camp were being arrested.
Maban County accommodates several refugee camps hosting Sudanese refugees who are fleeing due to fighting between the Khartoum government and SPLM-N rebels in Blue Nile state.
Radio Tamazuj was unable to reach the UN refugee agency at the camp for a comment.