Violence against South Sudanese: enough is enough, says AU chief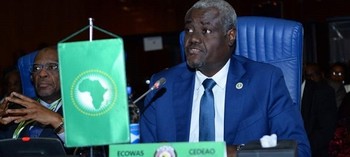 File photo: African Union chairperson Moussa Faki
African Union chairperson Moussa Faki Mahamat said that "the time has come" to bring about peace in war-torn South Sudan.
"The time has come for peace. Enough is enough because the people of South Sudan deserve to live in peace and stability," Moussa Faki, chairman of the AU commission told Radio Tamazuj from the venue of peace talks in Addis Ababa this afternoon.
Faki said South Sudan's warring parties are guilty of violation of the peace agreements signed previously and that the international community would take action this time round. "As members of the international community, we will take action," he said.
"About three Years ago, the Addis Ababa agreement was signed here. Millions of people were displaced and thousands were killed again," he added.
He hoped this round of peace talks will be concluded with a final peace deal in South Sudan.
He urged South Sudan leaders not to spoil the chances of peace, saying the peace process will benefit all the people of the newest nation.
The second round of peace talks resumed in Addis Ababa today morning. The forum brought together South Sudan warring parties.
Last month, the parties signed a shaky ceasefire deal in Addis Abba.