Veteran Sudanese communist Fatima Ahmed Ibrahim dies aged 84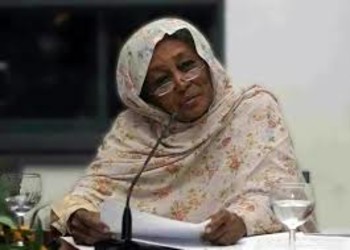 A veteran leader and member of the Sudanese Communist Party (SCP), Fatima Ahmed Ibrahim, has died at the age of 84 in London on Saturday.
The late feminist leader, who was among the first generation of women politicians in Sudan, was born in Khartoum in 1933 and became the first woman to be a Member of Parliament in the Middle East in 1965.
The late communist leader was known for championing women issues in Sudan.
In 1954, Fatima joined the Sudanese Communist Party (SCP), and for a short period Fatima became a member of the Central Committee of the SCP.
In 1956-1957, Fatima became the president of the Women's Union.
In 1990, Fatima left Sudan after the Omar al-Bashir coup d'état, and joined the opposition in exile. She returned to Sudan in 2005 after a reconciliation between the government and opposition, and was appointed in the parliament representing the SCP.
She retired from political leadership in 2011.