US warns measures against South Sudan over war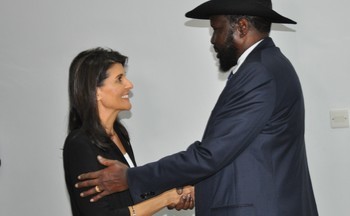 File photo: US Ambassador to the United Nations Nikki Haley meets President Salva Kiir in Juba on October 25, 2017. (Radio Tamazuj)
The United States on Tuesday warned South Sudan's government and rival forces that Washington is ready to take unspecified measures if they don't take action to end the nearly four-year war and stop harassing UN peacekeepers and aid workers.
US Ambassador to the UN Nikki Haley put urged President Salva Kiir to take action, telling the UN Security Council that "words are no longer sufficient."
"The United States is prepared to pursue additional measures against the government - or any party, for that matter - if they do not act to end the violence and ease the suffering in South Sudan," Haley said.
The US envoy pointed out that the United States will judge President Kiir and his government by their actions, not their words.
The United States is South Sudan's biggest aid provider and a key supporter of its independence from Sudan in 2011.