US wants fast track hybrid court in South Sudan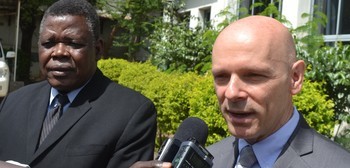 The United States on Thursday called on South Sudan government to expedite the process of forming a hybrid court to try perpetrators of rights abuses in the war-torn country.
The setting up of the hybrid court is part of the terms of the 2015 peace deal President Salva Kiir and opposition leader Riek Machar signed following intense pressure from the international community.
Thousands have been killed in the fighting.
In a statement issued on Thursday, the US embassy in Juba said South Sudan government should move immediately to conclude the Memorandum of Understanding with the African Union on the establishment of the Hybrid Court to deliver accountability for those responsible for human rights violations and abuses, including those that involve sexual and gender-based violence.
The statement comes shortly after South Sudan military court sentenced 10 soldiers to jail terms for a rampage at the Terrain Hotel compound where a South Sudanese journalist was killed and foreign aid workers raped on July 11, 2016.
The United States said it sees the verdict as an important step toward justice for the perpetrators of violence, including murder and sexual assault, at the Terrain Hotel compound.
The statement urged the government of South Sudan to continue to pursue accountability for all violent acts committed by its military especially against international assistance workers and journalists.
The United States further said it remains concerned by reports of ongoing violations and abuses of human rights and international humanitarian law committed in South Sudan, including consistent, credible reports of rampant sexual violence.
It called on the government of South Sudan to hold accountable those additional individuals responsible for other violent attacks that have killed tens of thousands and displaced millions in the country.