US State Department honours Sudanese "tea lady" for her courage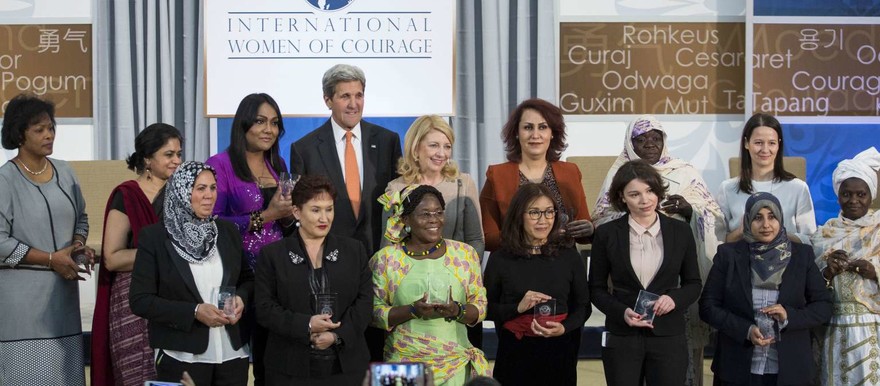 The US State Department on Tuesday presented the 10th Annual International Women of Courage Award to Awadiya Mahmoud Kuku, a Sudanese woman who led initiatives since 1979 demanding rights for tea sellers in Khartoum.
Awadiya was one of fourteen women from around the world to receive the honour this year. Established in 2007, the International Women of Courage Award honours women who have exemplified exceptional courage and leadership in advocating for women's equality and social progress.
Awadiya received the award from US Secretary of State John Kerry on Tuesday evening at a ceremony organized in the US capital city Washington, DC.
The State Department, which is the equivalent of a Ministry of Foreign Affairs, said Awadiya is "a champion of women working in Sudan's informal sector."
"Awadiya Majmoud has been fearless in confronting government authorities, challenging unfair social norms, and overcoming economic obstacles," the State Department said.
Awadiya has sold tea from the roadsides in Khartoum since 1979, and established a union of 8,000 women working in different businesses such as selling of tea and food on roadsides, representing all women in Khartoum state, to combat harrassment and mistreatment of informal workers.
The union fought for justice and improvement of conditions for women working in informal businesses. Women who sell tea and other goods on roadsides were persecuted by police authorities by imposing taxes on them forcing many to leave their livelihoods.
"As a "tea lady," she faced harassment from authorities," according to the State Department. "Unshaken by the fact that she had no legal recourse in Sudan's male-dominated society, she organized women into cooperatives, encouraging them to assert their rights, engage politicians on police behavior, and skillfully use the media to draw public attention to the challenges women in the informal sector face."
The State Department said her resolve to seek justice and equal opportunities for Sudanese women remains an inspiration throughout Sudan.
Photo: Awadiya, back row, second from right, with fellow award winners and John Kerry (US Dept of State)