WASHINGTON, D.C -
11 Oct 2019
US sanctions two businessmen in South Sudan for alleged corruption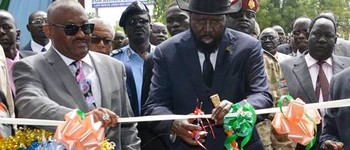 Photo: South Sudan President Salva Kiir lays the foundation stone of Al-Cardinal Kidney Hospital in Juba in October 2017
The United States on Friday placed sanctions on two businessmen, saying they had been involved in corruption and procurement fraud in South Sudan.
The U.S. Department of the Treasury's Office of Foreign Assets Control (OFAC) sanctioned Sudanese businessman Ashraf Seed Ahmed Al-Cardinal and South Sudanese businessman Kur Ajing Ater Ajing for "involvement in bribery, kickbacks and procurement fraud with senior government officials in South Sudan".
Five companies determined to be owned or controlled by Al-Cardinal and one company owned or controlled by Ajing were also sanctioned, the Treasury Department said in a statement extended to Radio Tamazuj.
"These South Sudanese elites and corrupt government officials have drained state coffers and usurped the country's resources with impunity. Al-Cardinal and Ajing leverage their businesses and political connections to engage in corruption at great expense to the South Sudanese people," said Sigal Mandelker, Treasury Under Secretary for Terrorism and Financial Intelligence.
"The South Sudanese government must take urgent measures to increase transparency and enforce accountability against those involved in systemic corruption. Privileged elites should not be allowed to profit from conflict as they undermine efforts to bring lasting peace to South Sudan," she added.
Reacting to the news, John Prendergast, Co-Founder of The Sentry, said: "This action by the Treasury Department is an important step forward in creating some accountability for those who have long thought they can loot South Sudan with impunity".
He urged governments around the world that are committed to peace and human rights in South Sudan to replicate these sanctions in order to amplify impact and cut off those who do business with violent kleptocrats from the international financial system.
The recent investigative report by The Sentry entitled, "Al-Cardinal: South Sudan's Original Oligarch" said Ashraf Seed Ahmed Al-Cardinal remains a major enabler of corruption and violence for the government of South Sudan.