WASHINTON D.C -
7 Aug 2017
US nominates new ambassador to South Sudan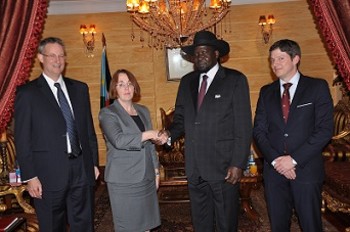 File photo: US Ambassador to South Sudan Mary Catherine Phee presents her credentials to President Kiir
The United States has nominated Thomas J. Hushek to be its Ambassador to South Sudan to replace Mary Molly Phee once confirmed.
Hushek has been an American diplomat since 1988.
The White House said in a statement on Friday that President Donald Trump intends to nominate Hushek, a career member of the Senior Foreign Service.
He is currently the Principal Deputy Assistant Secretary in the Bureau of Conflict and Stabilization Operations at the Department of State.
He earned a master's degree in international affairs from Colombia University and a bachelor from the University of Wisconsin, Madison.