US is a real 'obstacle to peace,' South Sudan government says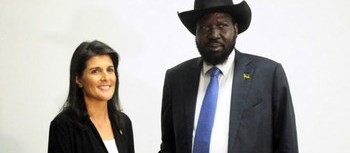 President Kiir and US Ambassador to UN, Nikki Haley/Photo -Presidential Press Unit/Oct. 25, 2017
The United States has been quite a real obstacle to peace, South Sudan's government said, pointing out that it was working to end the conflict.
The South Sudanese government, according to statement released to the public on Wednesday, claimed the actions of the United States at the UN Security Council undermine peace in South Sudan.
It asserted that the US statement was " a naked direct interference" with the internal affairs of a sovereign state and hurt peace process and restrain relations between the two countries.
The government pointed out that constructive engagement is viewed as the best way to achieve lasting peace in South Sudan.
The United States said it is giving up on the government of South Sudan due to slow progress of the peace process, saying the current government led by President Salva Kiir has lost credibility.
"The Government of South Sudan has lost credibility, and the United States is losing patience," the White House declared in a statement on Tuesday.