US envoy in Sudan for talks on border areas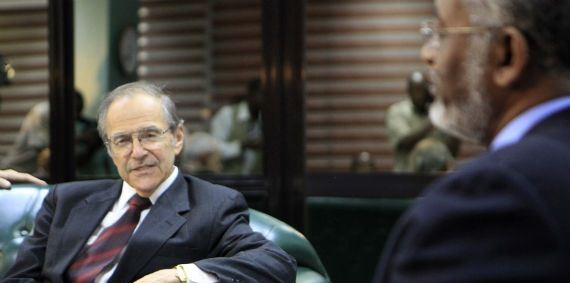 The US Special Envoy to Sudan Princeton Lyman visited Khartoum to discuss the cooperation agreement signed last September in Addis Ababa and the conflicts over the border areas South Kordofan, Blue Nile and Abyei.
Lyman, a special appointee of the White House, opposed talk of dividing the Abyei area between Sudan and South Sudan. Speaking at a press briefing at the embassy yesterday, he instead reiterated his support for the African Union proposal to hold a referendum in the region by October 2013.
The diplomat during this visit held apparently higher profile meetings than previous visits.
According to Sudanese press reports, Lyman attributed the non-implementation of the September cooperation agreement to lack of trust between the two parties.
He confirmed that the demarcation of the border between the states must be accompanied by a cessation of hostilities and the disarmament of violence on the border of the two countries.
He further contended that the restoration of trust between Sudan and South Sudan will be difficult unless the insurgencies in South Kordofan and Blue Nile end.
In a line heard often from Washington, Lyman reiterated that the Darfur crisis and the humanitarian situation in South Kordofan and Blue Nile are still preventing the 'normalization' of relations between the United States and Sudan.